Duterte threatens to 'arrest all,' fueling fears of dictatorship
Philippine President Rodrigo Duterte has said he is prepared to establish a "revolutionary government" to fend off alleged efforts to oust him, fueling fears of a looming dictatorship.
He issued the warning on Friday on state television as he railed against the press, European lawmakers and other critics of his drug war that has left thousands dead and led rights groups to warn of a crime against humanity.
Duterte said he would resort to a revolutionary government, as opposed to martial law that would require congressional approval, if communists and other opponents tried to destabilize his rule.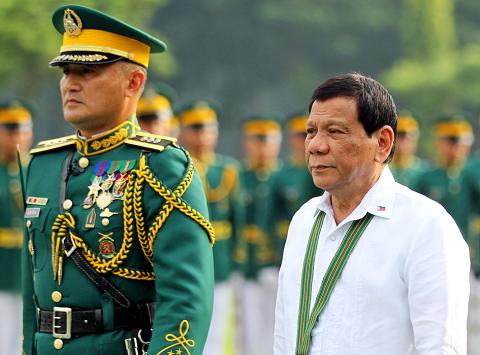 Philippine President Rodrigo Duterte, right, reviews honor guards during the turnover ceremony of the army commanding general at a military camp in Taguig City, the Philippines, on Oct. 5.
Photo: EPA
"If your destabilization is taking place and there is chaos already, I will not hesitate to declare a revolutionary government until the end of my term and I will arrest all of you and we can go to a full-scale war against the reds," Duterte said, in reference to communist rebels who have waged a nearly 50-year insurgency.
Duterte said the CIA was part of a plot to destabilize him and said he would jail all of his opponents as well as the communist leaders.
"I will declare a revolutionary government, you are all arrested. I am not scaring people, just remember that," he said.
Duterte cited the precedent set by former Philippine president Corazon Aquino, who established a revolutionary government soon after leading a "people power" uprising in 1986 that ended the reign of former Philippine president Ferdinand Marcos.
Aquino sacked all elected officials, abolished Philippine Congress and tore up the 1973 constitution in favor of a provisional charter.
However, she then ensured a new constitution was written and stepped aside after elections in 1992. She is revered by many Filipinos who see her as a heroine of democracy.
To prevent a recurrence of a dictatorship, the post-Aquino constitution limited presidents to a single term of six years.
Duterte's critics fear the 72-year-old, who has repeatedly threatened to impose martial law, is intent on dragging the country back into dictatorship.
Comments will be moderated. Keep comments relevant to the article. Remarks containing abusive and obscene language, personal attacks of any kind or promotion will be removed and the user banned. Final decision will be at the discretion of the Taipei Times.