Kim promotes sister and hails nuclear program
North Korean leader Kim Jong-un has promoted his sister to a senior ruling party post, state media said yesterday, and praised the country's nuclear weapons program, which has sparked international alarm.
Kim Yo-jong has become an alternate member of the party's powerful politburo, the decision-making body presided over by her brother, the official Korean Central News Agency said.
The promotion was announced along with those for dozens of other top officials at a party meeting led by Kim Jong-un on Saturday.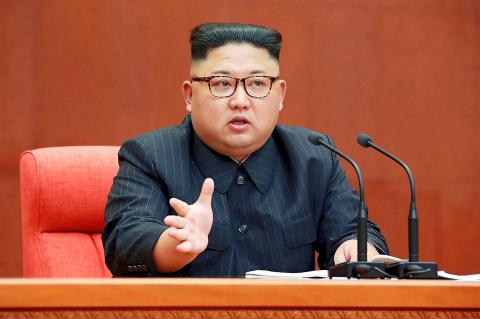 A photograph taken on Saturday and released yesterday by the Korean Central News Agency (KCNA) shows North Korean leader Kim Jong-un speaking during the Second Plenum of the 7th Central Committee of the Workers' Party of Korea in Pyongyang.
Photo: AFP / KCNA VIA KNS
It came as the regime faces growing global pressure to curb its weapons drive following recent nuclear and missile tests.
Tensions soared as Kim traded verbal threats with US President Donald Trump, who tweeted on Saturday that "only one thing will work" to tame Pyongyang.
"Presidents and their administrations have been talking to North Korea for 25 years, agreements made and massive amounts of money paid," Trump tweeted.
It "hasn't worked, agreements violated before the ink was dry, makings fools of US negotiators. Sorry, but only one thing will work!" he tweeted.
The sister, in her late 20s, has frequently been seen accompanying her brother on his "field guidance trips" and other events, and is known to have been involved in the party's propaganda operations.
They were born to former North Korean leader Kim Jong-il and his third partner, Ko Yong-hui.
During Saturday's meeting, Kim Jong-un acknowledged the country faced with "ordeals" under a "stern" situation, but said that its economy had grown this year despite ever-tighter sanctions.
He described the North's atomic weapons as a "treasured sword" to protect it from aggression.
"The nuclear weapons of the DPRK [Democratic People's Republic of Korea] are a precious fruition borne by its people's bloody struggle for defending the destiny and sovereignty of the country from the protracted nuclear threats of the US imperialists," he was quoted as saying.
Meanwhile, Japanese Prime Minister Shinzo Abe yesterday vowed to impose "all possible pressure" on the North over its nuclear and missile programs, promising to secure national security in a televised debate before a snap election on Oct. 22.
"Stepping up all possible pressure, we need to create a situation in which North Korea wants talks as it will change policy," Abe told the debate. "We will protect our country under stable politics."
Comments will be moderated. Keep comments relevant to the article. Remarks containing abusive and obscene language, personal attacks of any kind or promotion will be removed and the user banned. Final decision will be at the discretion of the Taipei Times.