Unity supporters rally in Barcelona
DIVIDED NATION: Organizers said yesterday's protest, like those across Spain on Saturday, was to represent the 'silent majority' that want the nation to stay together
Tens of thousands of people yesterday took to the streets of Catalonia's capital, Barcelona, to express their opposition to any declaration of independence from Spain, showing how divided the region is on the issue.
The protesters rallied in central Barcelona, waving Spanish and Catalan flags and banners saying "Catalonia is Spain" and "Together we are stronger," as politicians on both sides hardened their positions in the nation's worst political crisis for decades.
Spanish Prime Minister Mariano Rajoy on Saturday said that he would not rule out removing Catalonia's government and calling a fresh local election if it claimed independence, as well as suspending the region's existing autonomous status.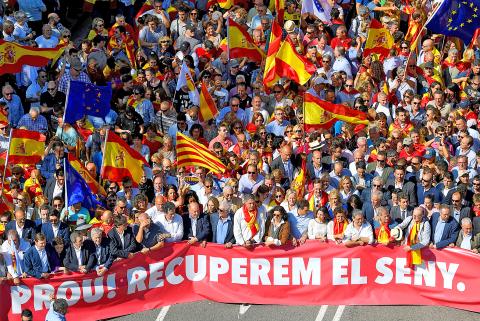 Popular Party of Catalonia leader Xavier Garcia Albiol, center of first row, and Peruvian writer Mario Vargas Llosa, next to him in blue shirt and sunglasses, yesterday walk behind a banner reading in Catalan "Enough, regain lucidity," during a demonstration in support of Spanish unity in Barcelona.
Photo: AFP
The stark warning came just days before Catalan President Carles Puigdemont is expected to address the region's parliament tomorrow, when he could unilaterally declare independence.
"We feel both Catalan and Spanish," Araceli Ponze, 72, said as she rallied in Barcelona. "We are facing a tremendous unknown. We will see what happens this week but we have to speak out very loudly so they know what we want."
The wealthy northeastern region of 7.5 million people, which has its own language and culture, held an independence referendum on Oct. 1 in defiance of a Spanish court ban.
More than 90 percent of the 2.3 million people who voted backed secession, according to Catalan officials, but that turnout represented only 43 percent of the region's 5.3 million eligible voters as many opponents of independence stayed away.
Losing Catalonia is almost unthinkable for the Spanish government. It would deprive Spain of about 16 percent of its people, a fifth of its economic output and more than a quarter of its exports. Catalonia is also the top destination for foreign tourists, attracting about a quarter of Spain's total.
The political stand-off has pushed banks and companies to move their headquarters outside Catalonia and concern is growing in EU capitals about the impact of the crisis on the Spanish economy, the fourth-largest in the eurozone, and on possible spillovers to other economies.
Some European officials are also worried that any softening in Spain's stance towards Catalan independence could fuel secessionist feelings among other groups in Europe such as Belgium's Flemings and Italy's Lombards.
The demonstration in Barcelona was organized by the anti-independence group Catalan Civil Society under the slogan "Let's recover our senses" to mobilize what it believes is a "silent majority" of citizens in Catalonia who oppose independence.
"The people who have come to demonstrate don't feel Catalan so much as Spanish," said 40-year-old engineer Raul Briones, wearing a Spanish national soccer team shirt. "We like how things have been up until now and want to go on like this."
It was a second day of protests after tens of thousands of people gathered in 50 cities across Spain on Saturday, some defending Spain's national unity and others dressed in white and calling for talks to defuse the crisis.
Until this weekend, Rajoy has remained vague on whether he would use article 155 of the constitution, which enables him to sack the regional government and call a local election.
Asked if he was ready to trigger article 155, Rajoy told El Pais newspaper: "I don't rule out anything that is within the law ... Ideally, we shouldn't have to take drastic solutions, but for that not to happen there would have to be changes."
He also ruled out using mediators to resolve the crisis — something Puigdemont has said that he is open to.
Comments will be moderated. Keep comments relevant to the article. Remarks containing abusive and obscene language, personal attacks of any kind or promotion will be removed and the user banned. Final decision will be at the discretion of the Taipei Times.