Dividend tax expected to be implemented
FLAT RATE: The reform package would reduce the 'rich man's tax' to 40 percent, but business owners are likely to see their incomes reduced due to a corporate tax increase
The government has finalized a major draft tax bill to abolish the imputation tax system and establish a new dividend tax system that would ease the burden on taxpayers by NT$59.9 billion (US$1.97 billion) annually.
The Cabinet on Sept. 4 introduced a major tax reform package that would abolish the imputation tax system for investors, increasing the deduction thresholds for personal income taxes and lowering the cap on the personal income tax rate.
The Cabinet and the Democratic Progressive Party caucus yesterday decided that taxpayers would be allowed to choose between two tax treatments of their dividend earnings: A flat rate of 26 percent on their dividend; or the dividend being taxed as part of their personal income while enjoying an 8.5 percent deduction on dividend earnings, with a maximum deductible of NT$80,000.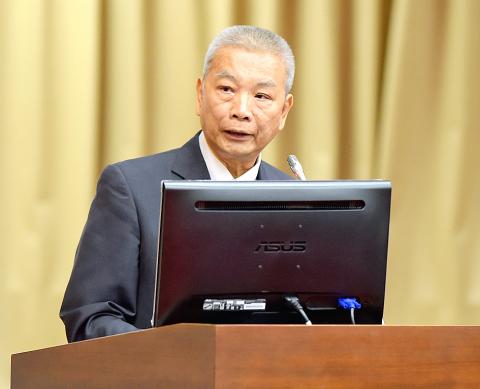 Minister of Finance Sheu Yu-jer speaks during a question-and-answer session at a meeting of the legislature's Finance Committee in Taipei yesterday.
Photo: Huang Yao-cheng, Taipei Times
An option to render 37 percent of an investor's dividend income tax-free, while the remaining 63 percent would be taxed as part of their personal income, was dropped.
Taxpayers could be spared an estimated NT$59.9 billion every year under the proposed system, meaning people would have more disposable income, Hsu said.
"The tax reform package can be described as 'feeding the poor without robbing anyone' and a reasonable redistribution of wealth that benefits all citizens," Executive Yuan spokesman Hsu Kuo-yung (徐國勇) said.
The drop in tax revenue would be made up with an increase in the corporate income tax, which would be increased from 17 percent to 20 percent, with an expected additional NT$65.4 billion return in tax revenue, Hsu said.
Total tax revenue, factoring in other tax adjustments, would drop by NT$6.9 billion, the Cabinet said.
Although the reform package would reduce the "rich man's tax" from 45 percent to 40 percent, it would not cause social inequity, as the more affluent taxpayers, usually business owners, would see their incomes reduced with the increase in corporate tax, Hsu said.
"If things proceed smoothly, the draft could pass the committee review in a month and become law ahead of the budget review," Minister of Finance Sheu Yu-jer (許虞哲) said.
Companies and interest groups have voiced support for the flat rate because it is easier to carry out, Sheu said.
However, opposition lawmakers raised doubts over the revision's fairness, arguing that the planned tax cut would benefit the rich more than average people.
The tax cut would save more than NT$3 million in dividend income tax for people in the 30 percent bracket, but only NT$5,000 for people in the 20 percent and lower bracket, Chinese Nationalist Party (KMT) Legislator Alex Fai (費鴻泰) said.
"Only the wealthy would benefit from the tax cut, as 37 percent of Taiwanese do not pay any tax due to their low income," Fai said.
KMT Legislator William Tseng (曾銘宗) questioned the need and desirability of tax cuts in times of economic growth.
Sheu defended the tax revision, saying that it is better to look at the matter by the ratio of tax savings for all because tax cuts always look larger for the rich in absolute amounts.
The tax reform package is to be submitted to the Legislative Yuan for approval on Thursday next week.
Additional reporting by Crystal Hsu
Comments will be moderated. Keep comments relevant to the article. Remarks containing abusive and obscene language, personal attacks of any kind or promotion will be removed and the user banned. Final decision will be at the discretion of the Taipei Times.