Lai asks lawmakers to focus on Cabinet's work
TOUGH SPOT: The premier said he wants legislators to stop asking him about his stance on cross-strait ties, as he does not want to incur their criticism or snub them
Premier William Lai (賴清德) yesterday asked lawmakers to stop asking him about his stance on cross-strait relations, saying that while he personally endorses Taiwanese independence, he would defer to President Tsai Ing-wen's (蔡英文) cross-strait policy of maintaining the "status quo."
Asked by lawmakers about his stance on cross-strait ties, Lai on Tuesday said he is a "political operative who advocates Taiwanese independence," sparking a torrent of criticism from the pan-blue camp.
The US Department of State's Bureau of East Asian and Pacific Affairs on Wednesday issued a statement reiterating its cross-strait policy, which is based on the Three Joint Communiques with Beijing and the Taiwan Relations Act.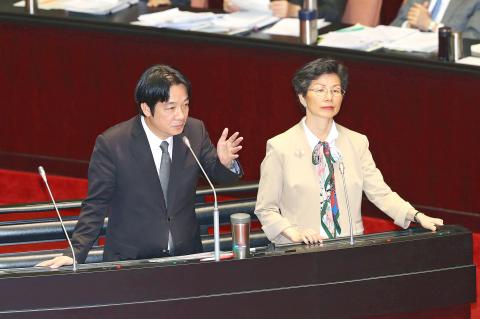 Premier William Lai, left, speaks at the Legislative Yuan in Taipei yesterday.
Photo: CNA
The US will adhere to its "one China" policy while continuing to encourage both sides of the Taiwan Strait to pursue peaceful means to resolve differences and establish a cordial cross-strait relationship, bureau spokesperson Grace Choi said.
Speaking to the media on the sidelines of a question-and-answer session at the Legislative Yuan in Taipei yesterday, Lai said he agreed with opposition lawmakers who said that he should not openly state his personal political views as premier.
Therefore, it is his "great hope that lawmakers will stop asking me questions about my stance on cross-strait relations," which would otherwise put him in a dilemma, as he neither wants to incur criticism nor snub lawmakers' questions, Lai said.
He called on lawmakers to focus on the Cabinet's policies, rather than on his political beliefs.
Asked if his pro-Taiwanese independence remarks have given Beijing an excuse to push for a new "one China" policy to further limit the nation's international space during upcoming negotiations with Washington, Lai said that it is unlikely that the US would agree to such terms.
He denied intentionally timing the remarks before talks between China and the US, saying that he was responding to lawmakers' questions.
"Frankly, I merely pointed out the mainstream public opinion [on the nation's sovereignty]," Lai said.
Asked about the New Party's plan to file a complaint against him for sedition, the premier said he could only respect the party's decision.
Later, when asked by Chinese Nationalist Party (KMT) Legislator William Tseng (曾銘宗) whether he had overstepped his purview with the remarks on Tuesday, Lai said that lawmakers had asked him about his personal stance.
"It is the president's jurisdiction to set cross-strait policies. The Executive Yuan will follow President Tsai's leadership to maintain the 'status quo' while consolidating Taiwan's sovereignty," Lai said.
He said he would humbly take criticism from lawmakers, but added that he hoped they would stop discussing his political stance.
Lai said he wants to focus on driving the nation's economic growth as premier, not politics.
Comments will be moderated. Keep comments relevant to the article. Remarks containing abusive and obscene language, personal attacks of any kind or promotion will be removed and the user banned. Final decision will be at the discretion of the Taipei Times.