Chang Guann coexecutives exhaust court appeals
The Supreme Court yesterday rejected an appeal by Chang Guann Co Ltd (強冠企業) executives against convictions for their role in the 2014 food scandal that saw the company sell recycled waste oils as edible lard to the food industry.
Company chairman Yeh Wen-hsiang (葉文祥) and deputy general manager Tai Chi-chuan (戴啟川) do not have legal grounds for an appeal, the Supreme Court said, dismissing their legal challenge against a High Court decision made in August last year.
The Supreme Court decision is final and Yeh and Tai are to serve the sentences handed down by High Court, the Supreme Court said.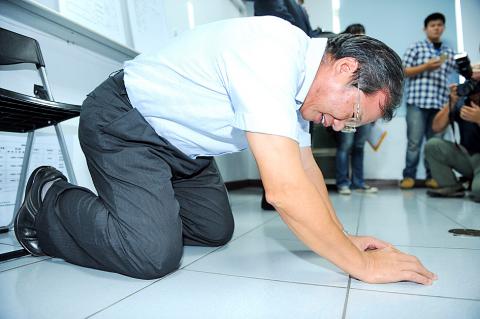 Chang Guann Co chairman Yeh Wen-hsiang kneels in Kaohsiung on Sept. 11, 2014, to apologize for a tainted oil scandal.
Photo: Chang Chung-yi, Taipei Times
Yeh was found guilty of 285 charges, ranging from aggravated fraud to violations of the Act Governing Food Safety and Sanitation (食品安全衛生管理法).
He has been sentenced to 22 years in prison, with five years commutable to a fine.
Tai has been sentenced to 18 years in prison, with four years commutable to a fine.
The High Court last year fined Chang Guann NT$120 million (US$3.99 million at the current exchange rate) and confiscated NT$81.5 million of the company's funds in accordance with the Criminal Code (刑法) which was amended a month prior to the judgement.
However, the Supreme Court remanded convictions against oil manufacturing subcontractor Kuo Lieh-cheng (郭烈成) — also known as Kuo Ying-chih (郭盈智) — and a truck driver surnamed Shih (施), to the High Court, saying their convictions were "incomplete and contradictory."
The oil scandal became public knowledge in 2014, when a farmer in Pingtung County's Jhutian Township (竹田) reported Kuo's unlicensed factory to police.
Investigators accused Kuo of manufacturing oil to be sold for human consumption from animal-feed oil and leather-care products, which were collected by Shih and sold to Yeh and Tai.
Yeh and Tai knowingly procured the recycled oil at between NT$26 and NT$30 per kilogram and processed it into various lard products that they sold to 285 food industry producers at between NT$40 and NT$55 per kilogram, prosecutors said.
Chang Guann derived more than NT$40 million in profits from the production, prosecutors said.
The case was first tried at the Pingtung District Court, which found the defendants guilty in July 2015.
Yeh and Tai were each sentenced to 20 years in prison, with five years commutable to a fine.
Kuo was sentenced to 12 years in prison and Shih to eight.
The defendants filed appeals and the case was tried at the High Court's Kaohsiung branch.
In August last year, the court handed down heavier sentences to Yeh and Tai, and increased the fine on Chang Guann.
The high court sentenced Kuo to 23 years and six months in prison and Shih to two years and six months, which were overturned by the Supreme Court's decision yesterday.
They are to be retried at the High Court's Kaohsiung branch.
Comments will be moderated. Keep comments relevant to the article. Remarks containing abusive and obscene language, personal attacks of any kind or promotion will be removed and the user banned. Final decision will be at the discretion of the Taipei Times.