Florida braces as Irma rolls in with 210kph winds
'PRAY FOR US': The storm prompted one of the largest evacuations in US history, with officials ordering about one-third of the state's population to leave their homes
Millions of people yesterday huddled in shelters or in battened-down homes in Florida as Hurricane Irma, one of the most powerful storms ever recorded in the Atlantic Ocean, prepared to make landfall with 210kph winds and catastrophically high seas.
The US National Hurricane Center forecast potentially deadly storm surges — water driven ashore by the winds — of up to 4.6m as the northern edge of the storm reached the Florida Keys, lashing rains and winds knocked out power to hundreds of thousands of people on the mainland.
"Pray for us," Florida Governor Rick Scott said in an ABC News interview as his state braced for the massive storm, which has already left a trail of destruction through the Caribbean.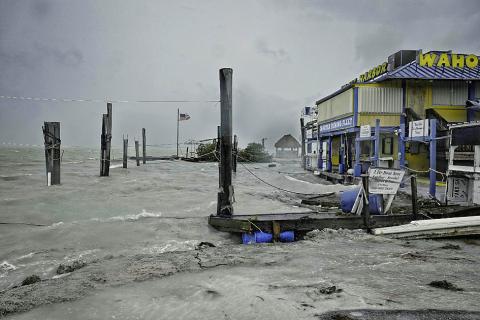 Rough surf churned up by Hurricane Irma batters the docks at Whale Harbor in the Florida Keys on Saturday.
Photo: AFP
Irma, which prompted one of the largest evacuations in US history, was a Category 4 hurricane about 32km east-southeast of Key West, Florida, yesterday morning, the center reported.
A day after hitting Cuba's northern coast, Irma was on a path that would take it along Florida's Gulf of Mexico coast near population centers including Tampa and St Petersburg, it said.
Hundreds of thousands of people spent the night in emergency shelters.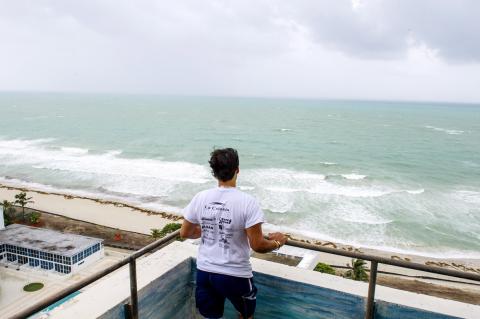 Joel Hernandez looks over churning surf in Miami Beach on Saturday.
Photo: EPA
Irma was expected to roar up Florida's western coast through the day yesterday, with hurricane-force winds extending about 129km from its center.
Forecasters also warned tornadoes could form in large portions of the state.
"Take action now to protect your life," the National Weather Service in Key West said. "This is an extremely dangerous and life-threatening situation."
Officials in Florida have ordered a total of 6.3 million people, or about one-third of the state's population, to evacuate, creating massive traffic jams on highways and overcrowding shelters.
Irma, which killed at least 22 people in the Caribbean, was likely to cause billions of US dollars in damage to the third-most-populous US state.
Nearly 600,000 homes and businesses were without power as of yesterday morning, according to utilities.
Wind gusts near hurricane force began to batter the Florida Keys late on Saturday, the center said, with Key West seeing gusts of up to 143kph yesterday and water levels about 60cm above normal.
The center has put out a hurricane warning and a tropical storm warning stretching through almost all of Florida into Georgia and South Carolina — an area where more than 20 million people live.
Irma comes just days after Hurricane Harvey dumped record-setting rain in Texas, causing unprecedented flooding, killing at least 60 people and leaving an estimated US$180 billion in property damage in its wake.
Meteorologists predicted Irma would plow into the Tampa Bay area this morning. The area has not been struck by a major hurricane since 1921, when its population was about 10,000, National Hurricane Center spokesman Dennis Feltgen said.
Now about 3 million people live there.
The latest course also still threatens Naples' mansion and yacht-lined canals, Sun City Center's retirement homes, and Sanibel Island's shell-filled beaches.
Irma's course change caught many off guard and triggered a major round of last-minute evacuations in the Tampa area.
Many businesses had yet to protect windows with plywood or hurricane shutters.
Some locals grumbled about the forecast, even though Florida's west coast had long been included in the zone of probability.
"For five days, we were told it was going to be on the east coast, and then 24 hours before it hits, we're now told it's coming up the west coast," said Jeff Beerbohm, a 52-year-old entrepreneur in St Petersburg. "As usual, the weatherman, I don't know why they're paid."
Almost three months remain in the Atlantic hurricane season, which runs through November.
Tracking models showed Irma would make landfall on the Keys and head along Florida's west coast, slamming the state that is a major tourism hub, with an economy comprising about 5 percent of US GDP.
Amid urgent warnings from state officials to evacuate before it was too late, downtown Miami was all but abandoned on Saturday.
On Florida's west coast, resident Charley Ball said he expected a storm surge to completely engulf the island of Sanibel where he lives.
"Just left the island and said goodbye to everything I own," the 62-year-old said.
In Cuba, the destruction along the north central coast was similar to that suffered by other Caribbean islands over the past week as Irma plowed into Ciego de Avila Province.
It was the first time the eye of a Category 5 storm had made landfall in Cuba since 1932, state media said, and the Cuban government ordered the evacuation of more than 1 million people from its path.
Additional reporting by AP
Comments will be moderated. Keep comments relevant to the article. Remarks containing abusive and obscene language, personal attacks of any kind or promotion will be removed and the user banned. Final decision will be at the discretion of the Taipei Times.