Rohingya exodus to Bangladesh nears 300,000
About 300,000 Rohingya Muslims have fled Myanmar's Rakhine State into Bangladesh in the 15 days since new violence erupted and the UN is braced for a further surge, officials said yesterday.
The exodus figure has jumped about 20,000 in a day and from 164,000 on Thursday.
Bangladeshi authorities plan to build a camp that could house 250,000 people.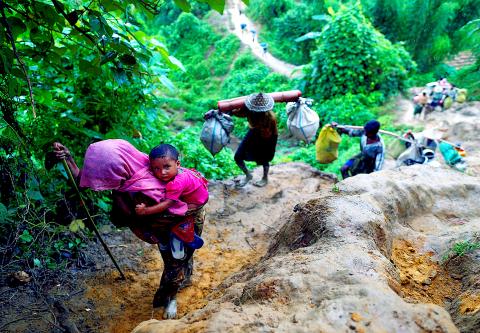 Rohingya refugees climb up a hill on Friday after crossing the Bangladesh-Myanmar border at Cox's Bazar, Bangladesh.
Photo: Reuters
"Some 290,000 Rohingya arrived in Bangladesh since August 25," UN High Commissioner for Refugees spokesman Joseph Tripura said.
New violence started on Aug. 25 after Rohingya militants attacked police posts in Rakhine, triggering a security forces crackdown.
Those who have fled across the border have accused the Burmese military of staging reprisal attacks on Muslim villages.
Officials said the UN has found more Rohingya in Bangladeshi villages and areas that were not previously included by relief agencies.
Agencies are now bracing for a new increase in numbers.
"The situation is very volatile," World Food Programme (WFP) Bangladesh spokesman Dipayan Bhattacharyya said.
"We started with planning for an influx of 120,000. Then we made a resource planning for 300,000," he said.
"The current influx has almost now reached 300,000. Now the WFP and the other UN agencies on the ground may have to review it again if the influx continues unabated," Bhattacharyya added.
Hungry Rohingya are running toward every food truck that arrives in the camps.
"People are very desperate to get whatever assistance they can get in terms of food, shelter and water. They are deprived of everything. They are desperate for just basic survival," Bhattacharyya said.
The WFP started distributing 25kg rice sacks to families who have just arrived.
Most of the Rohingya are arriving by foot or boat across Bangladesh's 278km border with Myanmar, a fourth of which is made up by the Naf River.
The Rohingya have long been subjected to discrimination in Buddhist-majority Myanmar, which denies them citizenship.
The Burmese government regards them as illegal migrants from Bangladesh, even if they have lived in Myanmar for generations.
Refugee camps near Bangladesh's border with Myanmar already had about 300,000 Rohingya before the upsurge in violence last month and are now overwhelmed.
Tens of thousands of new arrivals have nowhere to shelter from monsoon rains.
The latest figure takes the number of Rohingya refugees who have arrived in Bangladesh since earlier violence erupted in October last year to 377,000.
Comments will be moderated. Keep comments relevant to the article. Remarks containing abusive and obscene language, personal attacks of any kind or promotion will be removed and the user banned. Final decision will be at the discretion of the Taipei Times.