Islamic State convoy halted after US-led airstrikes
A convoy of Islamic State militants being evacuated from the Lebanon-Syria border was moved to another Syrian government-held area on Thursday after their passage to militant-held territory further east was blocked by US-led airstrikes.
More than 300 militants and their families were in the convoy of buses after vacating the border area as part of a Hezbollah-negotiated deal to transport them to a town in eastern Syria near the Iraqi border.
The deal angered Iraq and the US, which launched airstrikes on Wednesday to block the convoy's advance.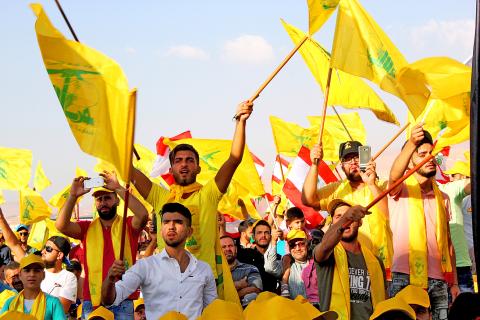 Supporters of Hezbollah wave party flags in the Ras al Ayn area in Lebanon yesterday after efforts succeeded to oust the Islamic State group from their position near the Syrian border.
Photo: EPA
After being stuck for hours at an exchange point, the buses moved further north to a government-controlled area while negotiations continued in search of a new way to reach their destination.
Earlier in the day, the Islamic State group handed over to Hezbollah the body of a captured Iranian Revolutionary Guard member as part of the deal.
Hezbollah said it had received the body of Mohsen Hojaji and would conduct DNA tests before sending his remains to Iran.
The handover was reported by the Hezbollah-run Al-Manar TV.
The militants revealed the locations of the remains of Lebanese soldiers captured in 2014 in exchange for safe passage through Syrian government-held territory.
US airstrikes on Wednesday destroyed a small bridge and cratered a road, forcing the convoy to halt.
Elsewhere, Iraqi Prime Minister Haider al-Abadi on Thursday said that the Iraqi town of Tal Afar had been "fully liberated" from the Islamic State group.
Comments will be moderated. Keep comments relevant to the article. Remarks containing abusive and obscene language, personal attacks of any kind or promotion will be removed and the user banned. Final decision will be at the discretion of the Taipei Times.