Former official detained over marijuana operation
Former Nantou County official Chen Chien-hung (陳建宏) and another man, Lee Chun-hsieh (李浚頡), have been detained on suspicion of illegally growing marijuana on a rented hill.
Chen, 50, formerly deputy speaker of the Shueili Township (水里) Council, in January last year was found in possession of marijuana seeds, police said, adding that they suspected he was growing the plant, as he had been in rehabilitation for use of cannabis.
However, they were unable to find any evidence and transferred the case to the Criminal Investigation Bureau's office in central Taiwan, which monitored Chen's movements over the past year, police said.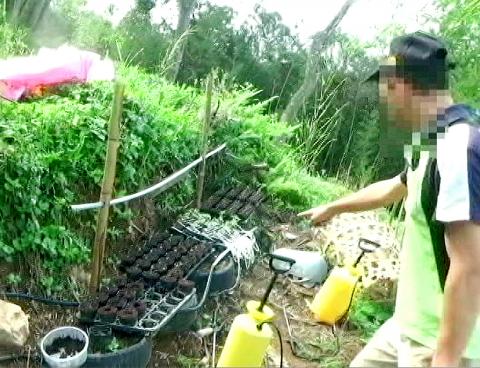 Lee Chun-hsieh points to marijuana plants he allegedly planted in Nantou County's Sinyi Township in an undated photograph. Lee's face has been obscured.
Photo: Copied by Chang Jui-chen, Taipei Times
Lee was arrested in 2009 and charged with offenses related to 1,751 marijuana plants, which brought jail time, police said.
He drew from that experience by planting marijuana in small amounts in different areas this time, police said.
Chen rented a large plot of land in a remote mountain area in Sinyi Township (信義) and hired Lee to help plant the seeds, the bureau said, adding that coffee and avocado plants were used as cover.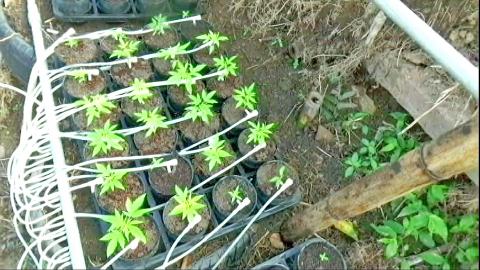 Marijuana plants irrigated using a system of water tubes are pictured in Nantou County's Sinyi Township yesterday.
Photo: Copy by Chang Jui-chen, Taipei Times
In July and last month, Lee planted marijuana at two locations, the bureau said.
Officers arrested Chen and Lee on Wednesday and found 103 marijuana plants, 39 marijuana cigarettes, three bags of seeds, 427.55g of leaves and planting tools.
Officers also arrested 10 others suspected of buying marijuana from the pair, police said.
The police said they were alerted to suspicious activity because of numerous unusual visits, such as Taiwan Power Co (台電) employees looking at transmission towers or people surveying the local flora, the bureau said.
Chen and Lee were transferred to the Nantou District Prosecutors' Office and charged with breaches of the Narcotics Hazard Prevention Act (毒品危害防治條例), police said.
Chen denied all of the charges, police said.
A court granted prosecutors permission to detain Chen and Lee, while the other suspects were released on bail of up to NT$20,000.
Marijuana usually sells for NT$1,500 to NT$2,500 per gram, but good quality plants can see prices rise to NT$3,000 per gram, police said.
Police said they were still trying to determine where Chen and Lee obtained the marijuana seeds.
Comments will be moderated. Keep comments relevant to the article. Remarks containing abusive and obscene language, personal attacks of any kind or promotion will be removed and the user banned. Final decision will be at the discretion of the Taipei Times.