Group laments inaction on membership in the UN
TUNING UP: Taiwan United Nations Alliance president Michael Tsai said that China needed to be reprimanded for its 'oppression' and that this was not troublemaking
The Ministry of Foreign Affairs has done "too little, too late" to push for UN membership this year, the Taiwan United Nations Alliance said at a news conference at the Legislative Yuan in Taipei yesterday.
More than 20 alliance members, as well as Democratic Progressive Party (DPP) caucus director-general Wu Ping-jui (吳秉叡) and DPP legislators Tsai Shih-ying (蔡適應) and Wang Ding-yu (王定宇), attended the event announcing the group's annual trip to the US to promote UN membership for Taiwan ahead of the UN General Assembly this month.
"Even though the ministry has told us that it has written to our diplomatic allies to ask them to speak for us at the UN General Assembly, it did not include a request that they submit a motion for Taiwan to join the UN," alliance president and former minister of national defense Michael Tsai (蔡明憲) said. "We will continue to try to fill the absence of government action, even though the force of our voices is limited and we do not understand why the government still refuses to act."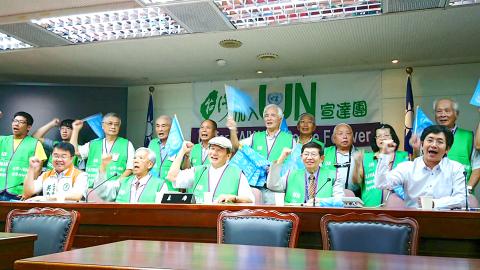 Members of the Taiwan United Nations Alliance wave flags at a news conference at the Legislative Yuan in Taipei yesterday.
Photo: Chen Yu-fu, Taipei Times
Alliance members would seek to meet with US lawmakers and think tanks in Washington to urge the US to demand talks on Taiwan's admission and to protest UN requirements that Taiwanese use identification documents issued by China for admission to the talks, he said.
The alliance is also to participate in a Sept. 16 protest in New York with Taiwanese expatriates to raise awareness of the issue, including a demonstration outside the Chinese consulate.
While former president Chen Shui-bian (陳水扁) of the DPP strongly backed yearly campaigns to join the UN, official efforts lagged under former president Ma Ying-jeou (馬英九) of the Chinese Nationalist Party (KMT), the group said, expressing disappointment that President Tsai Ing-wen (蔡英文) of the DPP has failed to take "more proactive and effective action" since taking office.
Media reports that Environmental Protection Administration Minister Lee Ying-yuan (李應元) is to be sent to New York to promote Taiwan's international environmental contributions would be a trip that is "too little, too late," Michael Tsai said.
"When we are being oppressed by China, we should shout that it is not fair," he said. "Not keeping quiet does not mean being a troublemaker."
Separately, an anonymous government official cited the "highly political" nature of the UN and the government's evaluation of the international and domestic environments as the major considerations behind deciding against asking diplomatic allies to submit a formal resolution.
Compared with professional organizations such as the International Civil Aviation Organization (ICAO), "there is a significant difference in international support for joining the UN," the official said, adding that it was important to pursue participation in ways that the international community felt "comfortable" with.
Tense cross-strait relations and the Chinese Communist Party's national congress next month were also considerations, the official said.
While the government this year will not ask diplomatic allies to motion for Taiwan's UN admission, it will ask them to voice three demands at the UN meeting: ameliorating the exclusion of Taiwanese from ICAO and the World Health Assembly; dropping requirements that Taiwanese use China-issued identification to visit the UN; and searching for appropriate means for Taiwan to participate in UN meetings on sustainable development goals.
Additional reporting by Peng Wan-hsin and CNA
Comments will be moderated. Keep comments relevant to the article. Remarks containing abusive and obscene language, personal attacks of any kind or promotion will be removed and the user banned. Final decision will be at the discretion of the Taipei Times.