Man accused of covertly filming sex granted bail
CLEAR VIEW: Police found videos of Lee having sex with 15 women, some of whom police believe are underage, meaning that Lee could be charged with statutory rape
A man suspected of covertly filming people having sex with him and possession of illegal drugs was granted bail after being questioned on Monday, the Taipei Police Department said.
Police applied to the Taoyuan District Court for a warrant to search the residence of 24-year-old Lee Wei-te (李威德) in Taoyuan after a woman surnamed Chou (周) brought charges of invasion of privacy against him.
Chou, Lee's senior in high school, accused him of unlocking her telephone while she was visiting him and distributing videos he found on the device of her having sex with her then-boyfriend.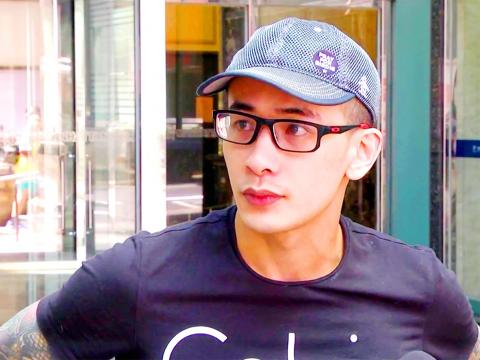 Lee Wei-te, 24, who is accused of handling narcotics and recording and publishing videos of sex acts, is pictured in an undated photograph.
Photo: Chen Yun, Taipei Times
Chou said she left the phone in Lee's house when she went to a nearby convenience store.
Lee threatened to upload more videos if she did not drop the charges, she said.
The police found 300 gigabytes of separate videos on Lee's computer of Lee having sex with women, which were suspected to be filmed without consent, as well as 0.3g of amphetamines at the residence, police said.
Fifteen women appeared in more than 60 different videos, six of whom were filmed with a clear view of their faces, police said.
Some of the women appeared to be young enough that Lee could face indictment for statutory rape, while other videos showed that Lee was present and did not attempt to stop the women from taking drugs, police said, adding that he might have taken advantage of them while they were under the influence.
Multiple concealed cameras were found at the residence, some containing footage of Lee adjusting them, which could be used as evidence, they said.
Lee often invited females on social networking Web sites to his home to have meals or drugs, police said, adding that he would start filming when they had sex.
Lee could face charges under Clause 1, Article 315 of the Criminal Code, which carry a maximum prison term of three years, mandatory detention, or a fine of NT$30,000.
He was released on bail of NT$20,000.
Lee admitted distributing the videos of Chou taken from her phone, claiming "it was a joke," but denied that the footage found on his computer was captured without the women's consent, police said.
He did not give specific details about the identities of the women in the videos, nor did he offer specific statements on whether he had raped the women after they took drugs, police said.
Lee's father works at an investment company and is often absent, remitting NT$200,000 per month to Lee to take care of his expenses, police said, adding that Lee was alienated from his parents due to their jobs.
Lee's Facebook has photographs and videos of him driving a Lamborghini and his pet dog covered with NT$1,000 bills.
Comments will be moderated. Keep comments relevant to the article. Remarks containing abusive and obscene language, personal attacks of any kind or promotion will be removed and the user banned. Final decision will be at the discretion of the Taipei Times.