Taipei Universiade: Tai leads nation to mixed team gold
World No. 1 Tai Tzu-ying (戴資穎) yesterday led Taiwan to gold in badminton, while roller sports athletes also topped the podium at the Taipei Summer Universiade.
Local athletes also excelled against international competition to pick up medals in weightlifting.
Taiwan's medal tally at press time last night was 15 golds, 19 silvers and 12 bronzes to retain third place behind South Korea and Japan.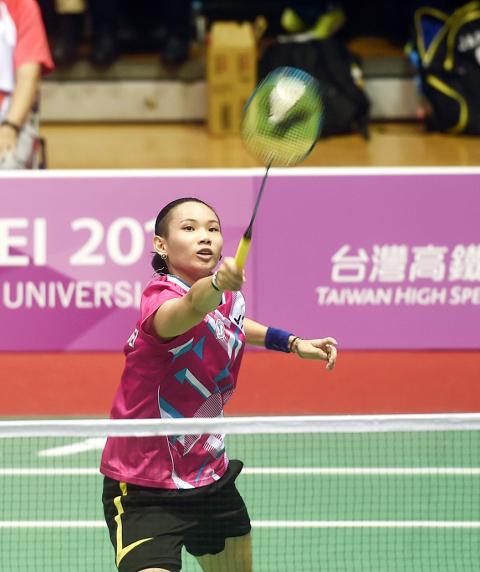 Taiwan's Tai Tzu-ying plays a shot in the Taipei Summer Universaide badminton mixed team final against Japan at the Taipei Gymnasium yesterday.
Photo: Fang Pin-chao, Taipei Times
Much of the attention yesterday was on "Badminton Queen" Tai, with tickets to the events at the Taipei Gymnasium sold out.
Tai has won numerous international titles, but rarely plays major competitions at home. She missed the World Badminton Championships in Scotland to play in Taipei.
Fans cheered the loudest for Tai as she impressed with her repertoire of trick shots and led her team to 3-0 victories in the mixed team event against Thailand in the morning's semis and Japan in the evening's final.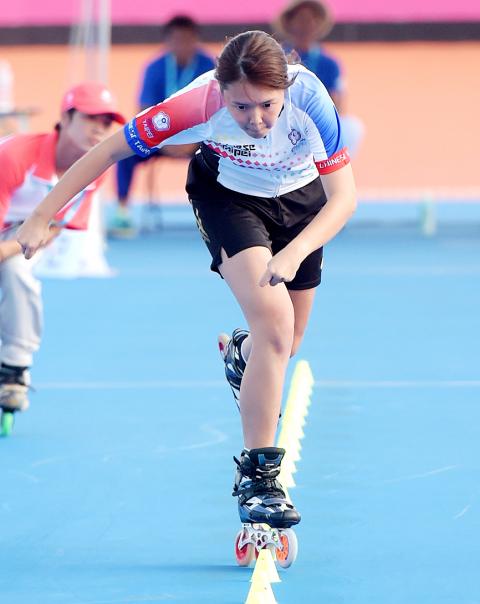 Taiwan's Wang Chia-wei competes in the Taipei Summer Universiade roller sports speed slalom at the Yingfeng Riverside Park Roller Sports Rink in Taipei yesterday.
Photo: Huang Yao-cheng, Taipei Times
It was Taiwan's first gold medal in the event at a Universiade.
In her match against Japan's Natsumi Shimoda in the final, Tai won 21-8, 21-13, while the men's duo of Lee Yang (李洋) and Lee Jhe-huei (李哲輝) won 21-5, 21-15 against Katsuki Tamate and Kenya Mitsuhashi.
Wang Tzu-wei (王子維) beat Kenta Nishimoto in the individual men's match of the team final 19-21, 21-17, 21-10.
The individual and doubles matches are to begin tomorrow, with the medals to be decided on Tuesday next week.
"It is a great feeling to hear fans with such enthusiastic support for our team. This is our home-field advantage," Tai said. "The match for the men finished too fast, so I did not have enough time to warm up and had to make quick adjustments to take to the court."
"They were good matches for me, although I made some unforced errors, but I am very happy to help Taiwan capture this gold medal," she said.
A native of Kaohsiung, Tai is enrolled at the University of Taipei.
Earlier this year she won Taiwan's first title at the Badminton Asia Championships in Wuhan, China.
In roller sports, Taiwan's Liang Hsuan-Min (梁瑄旼) took gold in the women's slalom, while Wang Chia-wei (王佳葳) won silver, with Russia's Kristina Lysenko third.
"I spent a year working toward this gold medal and it has paid off today," Liang said. "I have lost to Wang [Chia-wei] many times in the past, so I am really happy."
Liang said she was grateful to her mother and those who had traveled from Tainan to support her.
Wang Chia-wei said that she was looking to improve.
"I was disappointed with the result, but I want to keep improving and use this experience toward training for competitions next month," she said.
In weightlifting, Taiwan's Chen Shih-chieh (陳世杰) pocketed silver in the men's 105kg category with a snatch of 190kg and 225kg in clean and jerk for 415kg in total, while Lo Ying-yuan (羅楹湲) took the bronze in the women's 90kg category with a snatch of 105kg and 130kg in the clean and jerk for 235kg.
In athletics, Hsiang Chun-hsien (向俊賢) cleared 2.26m to grab bronze for Taiwan in the high jump, with Germany's Falk Wendrich winning gold and Italy's Marco Fassinotti taking silver.
Additional reporting by Deirdre Yeo
Comments will be moderated. Keep comments relevant to the article. Remarks containing abusive and obscene language, personal attacks of any kind or promotion will be removed and the user banned. Final decision will be at the discretion of the Taipei Times.