KMT's Hung 'regrets' platform to cut China peace deal
Former Chinese Nationalist Party (KMT) chairwoman Hung Hsiu-chu (洪秀柱) yesterday said it was "regrettable" that the proposal of a peace agreement with China is to be rescinded, as she commented on a new platform draft launched by KMT chairman-elect Wu Den-yih (吳敦義).
She would attend the party's national congress on Aug. 20, when Wu is to assume office and the platform is to be unveiled, Hung said at a meeting of the Blue Sky Action Alliance in Taipei.
"I will attend the newly elected chairman's inauguration ceremony, at least," she said. "If time allows, I will stay until noon after the discussion about the platform finishes."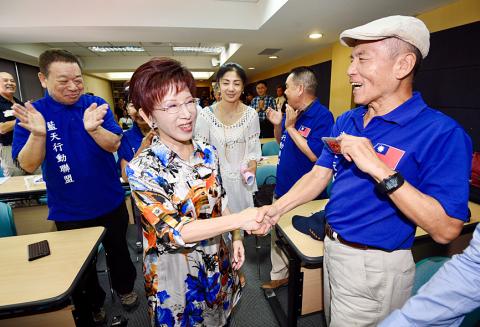 Former Chinese Nationalist Party (KMT) chairwoman Hung Hsiu-chu, center, shakes hands with a supporter at a Blue Sky Action Alliance meeting in Taipei yesterday.
Photo: Peter Lo, Taipei Times
Late last month, Wu published a draft platform, which advocated the principles of the so-called "1992 consensus" of "one China, different interpretations" and "firm opposition to Taiwanese independence."
While the platform did not include Hung's proposal of signing a peace agreement with China to end hostility, "for the betterment of the nation's future, there should be more discussion about the platform," she said.
In response to media queries about the apparent rivalry between the "two suns" — Wu and New Taipei City Mayor Eric Chu (朱立倫), Hung jokingly said: "I am disappointed I am not counted as one."
"Whether it is two or three suns, I am dying to see the KMT have more suns, so voters have more choices and to demonstrate that the party has many talented people," she said.
"It would be regrettable if the party did not have any sun, moon or stars," she added.
Last year, the party's national congress passed an amendment to its charter to allow local branches to directly elect their directors.
However, the amendment faced some uncertainty, with some members suggesting that direct elections be divided into stages.
"The direct election of local branches is not a bad thing, given that more members call for democracy," Hung said. "However, if there is no adequate complementary measure, the party will fall apart."
"I proposed that if direct elections were to occur, we should experiment in some regions," she said. "It turns out I was right."
Comments will be moderated. Keep comments relevant to the article. Remarks containing abusive and obscene language, personal attacks of any kind or promotion will be removed and the user banned. Final decision will be at the discretion of the Taipei Times.