Trump Jr, Kushner to appear before US
Members of US President Donald Trump's election campaign's inner circle, including his eldest son and son-in-law, are being called before US Senate committees next week to talk about last year's US presidential election.
The week has the potential to deliver the most high-profile congressional testimony involving the Russian meddling probes since former FBI director James Comey appeared last month.
Donald Trump Jr is scheduled to appear on Wednesday before the Senate Judiciary Committee along with former campaign chairman Paul Manafort, according to a witness list released by the panel on Wednesday.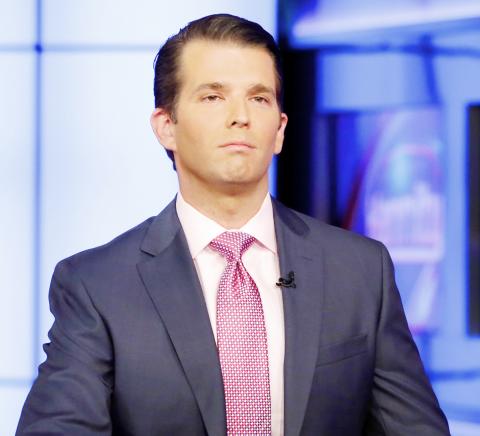 Donald Trump Jr is interviewed by Sean Hannity on his Fox News Channel television program in New York on July 11.
Photo: AP
Also, a lawyer for Donald Trump's powerful son-in-law and adviser Jared Kushner said Kushner will speak to the Senate intelligence committee on Monday.
"As Mr Kushner has been saying since March, he has been and is prepared to voluntarily cooperate and provide whatever information he has on the investigations to Congress," attorney Abbe Lowell said. "He will continue to cooperate and appreciates the opportunity to assist in putting this matter to rest."
That meeting is apparently to take place behind closed doors.
Alan Futerfas, a lawyer for Trump Jr, did not immediately respond to a request seeking comment about his scheduled testimony.
Manafort spokesman Jason Maloni said Manafort received the request on Wednesday afternoon and was reading it over.
The three men are almost certainly to be asked about their attendance at a meeting in June last year with a Russian lawyer.
That gathering was arranged via e-mails that said it would reveal damaging information about former US secretary of state Hillary Rodham Clinton.
The lawyer, Natalia Veselnitskaya, also said on Wednesday she was ready to testify before the US Senate and "clarify the situation."
The meeting raised new questions about the campaign's possible ties to Moscow, which are being scrutinized by federal and congressional investigators.
The questions have only intensified as the identities of other Russia-connected participants have become known.
"I am ready to clarify the situation behind the mass hysteria, but only through lawyers or testifying in the Senate," Veselnitskaya said in an interview broadcast on Wednesday on Kremlin-funded RT television.
"If the Senate wishes to hear the real story, I will be happy to speak up and share everything I wanted to tell Mr Trump," she added.
That appeared to be a reference to Veselnitskaya's previous statement that the meeting with Trump Jr focused on US-Russian adoption policies and a US sanctions law.
Veselnitskaya has denied working for the Russian government. She has not responded to repeated attempts by reporters to reach her for comment.
Congressional investigators in both parties have said they want to hear from those involved in the meeting.
The top Democrat on the Senate intelligence panel, US Senator Mark Warner, on Wednesday afternoon said that the panel has not yet invited Veselnitskaya to testify, but he wants to hear from her and others who attended.
Comments will be moderated. Keep comments relevant to the article. Remarks containing abusive and obscene language, personal attacks of any kind or promotion will be removed and the user banned. Final decision will be at the discretion of the Taipei Times.