Donald Trump in Paris with Russia scandal in tow
France yesterday rolled out the red carpet to welcome US President Donald Trump on a visit laden with military pomp that the White House hopes will offer a respite from a growing scandal back home.
Trump's 24-hour trip to Paris coincides with celebrations today for Bastille Day, France's national day, and the 100th anniversary of US involvement in World War I.
Accompanied by first lady Melania Trump, the 71-year-old stepped onto French soil for the first time as US president, hoping the visit would distract from weighty allegations that his family and inner circle colluded with Russia to win last year's US presidential election.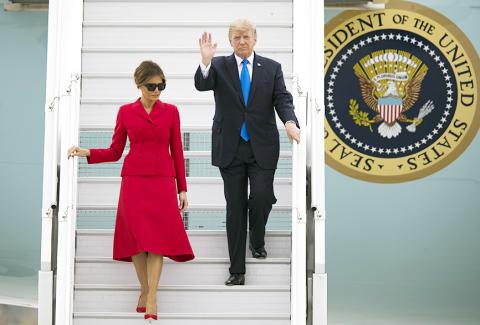 US President Donald Trump, right, and first lady Melania Trump disembark Air Force One at Orly Airport, France, yesterday.
Photo: EPA
The scandal has put his son and top aides in legal jeopardy, cast a pall over his efforts to remake the political agenda and might imperil his presidency.
During the brief visit, Trump is to be the guest of honor for Bastille Day festivities that are to feature 63 planes, 29 helicopters, 241 horses and 3,720 soldiers.
Trump yesterday visited Napoleon's tomb and was later to hold talks with French President Emmanuel Macron and share a Michelin-starred dinner atop the Eiffel Tower.
Talks between the two leaders are expected to focus on joint efforts to combat the Islamic State (IS) group in Iraq and Syria.
Macron, 39, is hoping to use the weight of history and French grandeur to charm the unpredictable Trump.
Trump might struggle to stop his mind wondering back to explosive e-mails in which his oldest son Donald Trump Jr appeared to embrace the offer of dirt on former US secretary of state Hillary Rodham Clinton from Russian interlocutors.
Shortly before leaving Washington, he had to parry criticisms that his administration was in disarray and his legislative agenda on the rocks.
"The W.H. is functioning perfectly, focused on HealthCare, Tax Cuts/Reform & many other things. I have very little time for watching T.V." he tweeted.
In London, Berlin, Brussels and Paris, European leaders are wondering how best to handle Trump, whose nationalist "America first" agenda has upended transatlantic relations.
There are already tensions over climate change and trade, while Trump was openly critical of the EU last year and snubbed a handshake with German Chancellor Angela Merkel in March during their first meeting.
"The Western world is fracturing since the American election," Macron said in an interview published yesterday in the regional newspaper Ouest-France.
Comments will be moderated. Keep comments relevant to the article. Remarks containing abusive and obscene language, personal attacks of any kind or promotion will be removed and the user banned. Final decision will be at the discretion of the Taipei Times.