Abe plunged into crisis after Tokyo election drubbing
WE MIGHT BE LAX: Several executives of the LDP's Tokyo chapter are expected to resign and Abe may reshuffle his Cabinet next month, a report said
Scandal-hit Japanese Prime Minister Shinzo Abe faces one of his biggest tests since coming to power in late 2012, after his ruling party lost to an upstart outfit in an election for Tokyo's assembly.
The Liberal Democratic Party (LDP) lost more than half its seats to end up with 23, the lowest number ever in the capital, in a vote that could be a harbinger for national elections. Voter turnout was up about 8 percentage points on the previous poll four years ago.
Tokyo Governor Yuriko Koike's Tokyo Citizens First party won 49 seats in the 127-seat assembly, up from six beforehand. That would give her a majority after she formed a local alliance with parties including Abe's national coalition partner Komeito.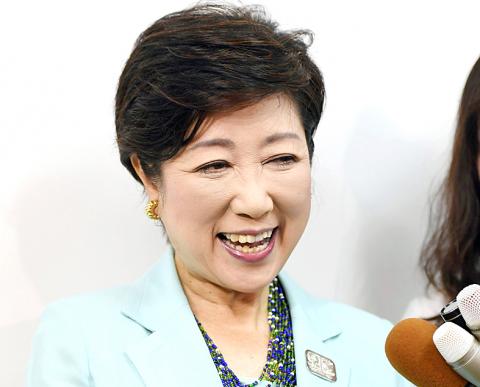 Tokyo Governor Yuriko Koike smiles in Tokyo yesterday, the day after her Tokyo Citizens First party won a landslide victory in the city election.
Photo: AP
Somber-faced LDP executives yesterday morning sat in silence at the opening of an extraordinary meeting to discuss the defeat.
"At times like this we must pull ourselves together and reflect on the things that should be reflected on, then move ahead carefully, but decisively," Abe said yesterday in remarks carried on public broadcaster NHK.
"It's been almost five years since the administration was launched and there was severe criticism that we might be lax. We have to accept that with sincerity," he said.
A poll conducted by the Asahi newspaper over the weekend found support for Abe's Cabinet had fallen three percentage points to 38 percent, while 42 percent of respondents said they did not support him.
A spate of scandals has eroded support for Abe, and the result might stir more criticism within the LDP, where potential rivals are positioning themselves to try and end his run as Japan's third-longest serving prime minister since World War II.
The loss could also hamper his controversial push to revise Japan's pacifist constitution by 2020.
Several executives of the party's Tokyo chapter are expected to resign, the Nikkei daily reported yesterday, adding that Abe is likely to reshuffle his Cabinet as soon as next month.
Koike, who defected from the ruling party last month, campaigned on a platform of open government and cutting wasteful spending in the city of 13.7 million, which accounts for about one fifth of Japan's economy. One of her first moves as governor was to halve her own salary.
"Tokyo citizens' expectation that we would reform the outdated assembly enabled us to become the biggest party," Koike told a news conference yesterday, where she expressed willingness to work with Abe.
"Tokyo and the national government must think of the interests of the people of the capital and work together as necessary," she said.
Koike, 64, is a former TV journalist fluent in English and Arabic who has served as environment minister and defense minister, as well as an LDP executive. The win could give her momentum for an eventual return to the national stage.
Comments will be moderated. Keep comments relevant to the article. Remarks containing abusive and obscene language, personal attacks of any kind or promotion will be removed and the user banned. Final decision will be at the discretion of the Taipei Times.