Trump ups ante against media with 'CNN' video
US President Donald Trump on Sunday launched a fresh attack on the news media by tweeting a video showing him knocking down and beating a professional wrestling "villain" whose face had been replaced by a CNN logo.
The 10-year-old video, hailing back to Trump's days as a guest celebrity at pro-wrestling events, came after a week in which his unrestrained Twitter attacks on two MSNBC talk show hosts drew widespread condemnation from members of both political parties in the US Congress.
The latest tweet was immediately condemned by journalists.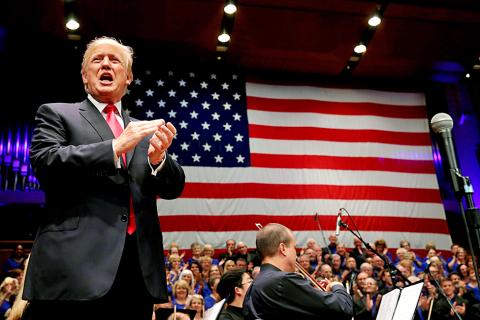 US President Donald Trump arrives at the Celebrate Freedom Rally in Washington on Saturday.
Photo: Reuters
However, administration officials insisted Trump has a right to respond to critical coverage.
In the 28-second video, Trump, in a suit and tie, is seen knocking down another man in a suit who is standing next to a wrestling ring. Trump repeatedly pummels the fallen man, whose face is covered by the CNN logo. A fake CNN logo then appears on the screen reading "FNN: Fraud News Network."
A longer version of the video online shows that the man being beaten was World Wrestling Entertainment (WWE) owner-promoter Vince McMahon, a friend of Trump's.
In that version, Trump also gets in the ring to shave McMahon's head as part of the "The Battle of the Billionaires" at the WrestleMania 23 event.
"My use of social media is not Presidential — it's MODERN DAY PRESIDENTIAL. Make America Great Again!" Trump tweeted on Saturday.
Reporters on Thursday asked White House spokeswoman Sarah Huckabee Sanders whether his rhetoric might promote violence.
"The president in no way, form or fashion has ever promoted or encouraged violence. If anything, quite the contrary," she replied.
"It is a sad day when the president of the United States encourages violence against reporters," CNN said in a statement. "Clearly, Sarah Huckabee Sanders lied when she said the president had never done so."
CNN went on to suggest that instead of engaging in "juvenile behavior far below the dignity of his office," Trump should be focusing on issues like healthcare, tensions with North Korea and his upcoming trip to Germany for a G20 summit and his first meeting with Russian President Vladimir Putin.
US homeland security adviser Thomas Bossert defended Trump's video, saying it demonstrated the president's "genuine ability to communicate to the people."
Comments will be moderated. Keep comments relevant to the article. Remarks containing abusive and obscene language, personal attacks of any kind or promotion will be removed and the user banned. Final decision will be at the discretion of the Taipei Times.