Legislature passes pension reform bill
ON THE CHOPPING BLOCK: Opponents said the DPP only cares about its political interests and vowed to make the party 'collapse' in next year's local elections
The legislature yesterday passed the Act Governing the Retirement and Pensions of Public-School Teachers and Employees (公立學校教職員退休撫卹條例), another major step in the government's efforts to push for pension reform.
The legislation's passage drew a relatively subdued reaction from a small group of protesters outside the Legislative Yuan in Taipei, with more than 20 sitting outside the compound's barricades before using their fists and umbrellas to demolish a paper wall adorned with the faces of Democratic Progressive Party (DPP) and New Power Party legislators.
"Nothing compares with the pain caused by the passage of this bill," National Federation of Teachers' Unions director-general Huang Yao-nan (黃耀南) said, adding that the DPP caucus was "butchering" teachers.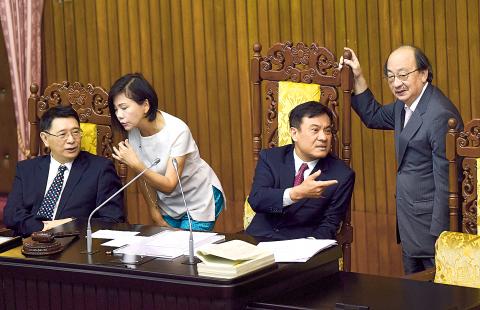 From left, Legislative Yuan Secretary-General Lin Chi-chia, Democratic Progressive Party (DPP) Legislator Yeh Yi-jin, Legislative Speaker Su Jia-chyuan and DPP caucus convenor Ker Chien-ming confer at the Legislative Yuan in Taipei yesterday.
Photo: Chien Jung-fong, Taipei Times
Huang called for implementation of the law to be delayed by a month to August next year to allow teachers retiring before the fall semester to be exempted.
"We long ago felt in our bones that this would be the outcome, as the DPP only cares about its political interests, making it more willing to put our interests on the chopping block," National Association of Retired Teachers president Chang Mei-ing (張美英) said.
Taipei School Education Union president Lee Hui-lan (李惠蘭) vowed to make the DPP "collapse" in next year's local elections.
The legislation, set to take effect on July 1 next year, pushes back the retirement age for public employees and public-school teachers from 50 to 58.
The highest income replacement ratio for teachers who retire after 35 years of service is to be lowered 1.5 percent to 73.5 percent starting in 2020 and would gradually be lowered to 60 percent over 10 years, while the replacement ratio ceiling for teachers who retire after 15 years of work is to be lowered from 45 percent to 30 percent over the same period.
A "pension floor" was set at NT$32,160 to limit the scope of the pension cuts.
An 18 percent preferential interest rate for savings accounts of public-school teachers hired before July 1995 is to be conditionally phased out. Retired teachers under a pension system predating July 1995 who chose to receive monthly pension payments would no longer receive the preferential interest rate by the end of 2020.
The interest rate for retirees who claimed their pensions in a lump sum is to be reduced to 6 percent in 10 years, filling a gap between the pension floor and the income replacement ratio ceiling.
The regulations include a stipulation that public-school teachers who retired early, resigned or were dismissed after being charged with sexual assault on campus would be required to return all pension and severance payments if convicted.
Pensions due to former teachers implicated in cases of on-campus sexual assault are to be canceled.
Under existing rules, teachers convicted of sexual assault on campus are to be dismissed and barred from teaching again.
Another rule stipulates that retired teachers and the families of deceased retirees who are eligible for alimony or are receiving pension payments in the stead of their late partners would see the payments suspended if they live in China for a prolonged period without obtaining a Chinese passport or having a registered address in China.
"The payments are to be resumed, with the suspended portion reimbursed, after the recipients move back to Taiwan and reapply following due procedures," the rule reads.
Chinese Nationalist Party (KMT) Legislator Yosi Takun (孔文吉) criticized the rule, saying that it targets pensioners living in China while excluding those who live in other nations.
However, the proposal, tendered by the DPP, passed a third reading with a majority vote.
A provision stipulating that foreigners working as presidents, principals, researchers or teachers at public or private institutions are eligible for pensions was also approved.
Foreigners hired by schools in accordance with the University Act (大學法), the Nationality Act (國籍法) and the Employment Service Act (就業服務法), but are not naturalized Republic of China (ROC) citizens, are eligible to claim pensions in a lump sum.
Foreigners who work at public schools, have obtained ROC nationality and meet qualifications stipulated in the regulations may choose to convert their pensions into monthly payments, just as their Taiwanese counterparts can.
The legislation says public-school teachers and public employees may start receiving their pensions when they turn 58, with those who plan to retire after June 30 next year must have served for 26 years and be 50.
Teachers hired after Dec. 31, 2010, must have a combined seniority of at least 30 years in the public sector and be at least 50 to be eligible for monthly payments.
Additional reporting by Abraham Gerber
Comments will be moderated. Keep comments relevant to the article. Remarks containing abusive and obscene language, personal attacks of any kind or promotion will be removed and the user banned. Final decision will be at the discretion of the Taipei Times.