Nobel laureate Liu Xiaobo out on medical leave
HOSPITALIZED: Attorney Mo Shaoping said Liu is being treated for late-stage liver cancer. There has been a flood of criticism of Beijing's treatment of him
Chinese Nobel Peace Prize winner and rights activist Liu Xiaobo (劉曉波) has been released from prison on medical parole and is being treated in hospital for late-stage liver cancer, his lawyer said yesterday.
Liu, 61, was sentenced to 11 years in prison in 2009 for "inciting subversion of state power" after he helped write a petition known as "Charter 08" calling for sweeping political reforms in China.
In December 2010, Liu was awarded the Nobel Peace Prize for his activism promoting human rights in China, causing Beijing to freeze diplomatic ties with Norway.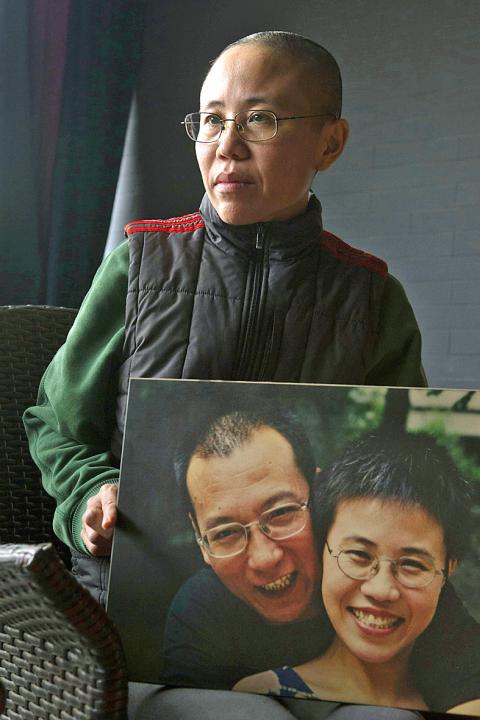 Liu Xia, wife of 2010 Nobel Peace Prize laureate Liu Xiaobo, poses on Dec. 6, 2012, with a photograph of herself and her husband in her home in Beijing, China.
Photo: AP
Mo Shaoping (莫少平), one of Liu's lawyers, said that Liu was being treated for late-stage liver cancer in Shenyang and that medical parole had been approved.
Messages seen by reporters from another lawyer for Liu, Shang Baojun (尚寶軍), confirmed the news.
When asked about Liu, the Chinese Ministry of Foreign Affairs said it was not aware of the situation, while the ministries of public security and justice did not respond to requests for comment.
Tibetan writer and family friend Tsering Woeser said she had been in tears after reading online reports of Liu's illness.
"I'm shocked and deeply saddened," she said. "All we can do now is pray for him."
Liu's wife, Liu Xia (劉霞), who has been under effective house arrest since he won the Nobel Peace Prize, is suffering from depression, but has been allowed to visit him in prison about once a month, a source close to the dissident said.
He had been incarcerated at Jinzhou Penitentiary in Liaoning Province, his home province, before being moved to the hospital for treatment.
Patrick Poon (潘嘉偉), a China researcher for Amnesty International, said on Twitter that the diagnosis was made on May 23.
William Nee (倪偉平), another China researcher for Amnesty, said authorities should ensure Liu Xiaobo was getting adequate medical care and he called for the couple's immediate and unconditional release.
He also called for the Nobel Committee and the international community to speak up "forcefully" for Liu Xiaobo now.
Supporters of Liu Xiaobo yesterday took to Twitter and other platforms to express sadness at the news of his illness and denounce the Chinese government's treatment of him.
Comments will be moderated. Keep comments relevant to the article. Remarks containing abusive and obscene language, personal attacks of any kind or promotion will be removed and the user banned. Final decision will be at the discretion of the Taipei Times.