Toshiba in sales talks with Japan-US-S Korea group
IMMINENT DEAL: The group bid offers the best deal in terms of certainty, staff retention, valuation and the maintenance of technology, Toshiba said
Toshiba Corp yesterday said it would hold exclusive talks with a consortium of US, South Korean and state-backed Japanese investors to sell its prized memorychip business, as the loss-hit conglomerate scrambles to raise cash.
The company needs money after taking massive losses in its US nuclear operations that have put the survival of a pillar of corporate Japan in doubt.
Toshiba's board decided to select the consortium as a "preferred bidder," the company said in a statement, suggesting the deal is all but imminent.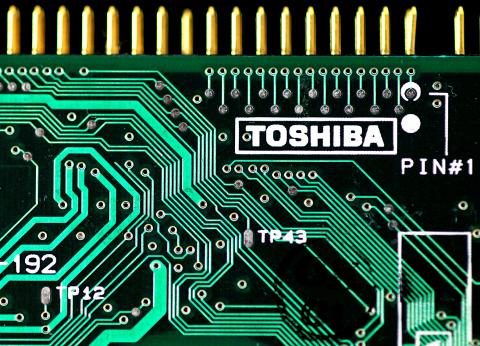 A Toshiba Corp logo is seen on a printed circuit board in this photographic illustration taken in Tokyo July 31, 2012.
Photo: Reuters
The group's joint bid, which is reportedly worth more than ¥2 trillion (US$17.99 billion), is "the best proposal, not only in terms of valuation, but also in respect to certainty of closing, retention of employees, and maintenance of sensitive technology within Japan," Toshiba said.
The bidding group is comprised of the public-private Innovation Network Corp of Japan, the state-backed Development Bank of Japan and US private equity fund Bain Capital LP, it said.
South Korean chip giant SK Hynix Inc is to participate as a lender in the deal, a Toshiba spokesman said.
Toshiba is aiming to finalize a sale by Wednesday next week's shareholders' meeting and close any agreement by March next year, "upon clearance of all the required processes, including competition law approvals in key jurisdictions," it said.
The sale of the memorychip business, seen as key for cash-strapped Toshiba's turnaround, still faces hurdles as US chip factory partner Western Digital Corp tries to block the sale with a court injunction.
Toshiba "has no right to transfer its JV [joint venture] interest to a third party without" consent of Western Digital's subsidiary SanDisk Corp, it said in a statement after the Japanese firm's announcement.
"We remain confident in our consent rights and our legal position and look forward to the hearing for injunctive relief, which is scheduled for July 14," it added.
Toshiba is the world's No. 2 supplier of memory chips, behind South Korea's Samsung Electronics Co and ahead of third-placed Western Digital.
Its chip division has accounted for about one-quarter of its annual revenue.
The inclusion of Japanese investors in the buying group would help ease reported government concerns about losing a sensitive technology to foreign owners, amid questions about security around systems already using Toshiba's memory chips.
The chips are widely used in data centers, as well as smartphones and computers.
Before the company confirmed the talks, Japanese Chief Cabinet Secretary Yoshihide Suga yesterday said that Toshiba's semiconductor business was important in terms of "information security" and "from the viewpoint of maintaining jobs."
Toshiba shares fell 2.18 percent to ¥323 in Tokyo yesterday.
Comments will be moderated. Keep comments relevant to the article. Remarks containing abusive and obscene language, personal attacks of any kind or promotion will be removed and the user banned. Final decision will be at the discretion of the Taipei Times.