US forces back military in Philippines
US special forces are providing support to the Philippine military battling to dislodge Muslim militants in a southern city, the US embassy said yesterday as 13 Filipino Marines were killed in fresh fighting.
Philippine troops are battling hundreds of fighters who rampaged through Marawi on May 23 flying black flags of the Islamic State group.
The militants have used bomb-proof tunnels, anti-tank weapons and civilians as human shields to fortify their positions.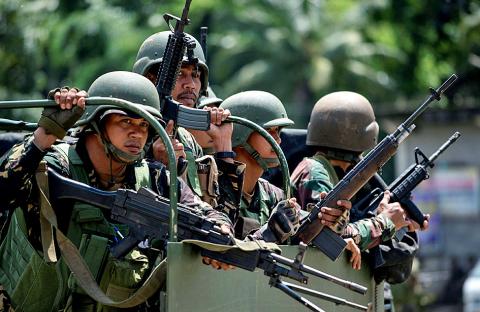 Soldiers ride a military vehicle in Marawi, the Philippines, yesterday.
Photo: AFP
Friday's ferocious, street-to-street gunbattles with the militants saw 13 troops killed in a dramatic surge in the toll from the conflict.
It was among the heaviest fighting in the standoff, with the air force supporting ground troops with sustained bombing runs that battered the city, journalists in Marawi said.
As the fighting intensified, the US embassy in Manila said that US forces were providing assistance to the Philippine troops, although it declined to give details for security reasons.
"At the request of the government of the Philippines, US special operations forces are assisting the [Philippine military] with ongoing operations in Marawi," the embassy said in a statement.
Philippine military spokesman Lieutenant Colonel Jo-ar Herrera confirmed the US help, adding that the special forces were not fighting, but "providing technical support."
He said Friday's deaths brought the number of government troops killed in the conflict to 58.
"There were intense firefights, house-to-house gunbattles," Herrera said at a news conference in Marawi. "We are saddened with the result ... we have fatalities on the government side."
At least 20 civilians and about 138 militants have also been killed, the government said.
The insurgents have so far withstood more than two weeks of air and ground assaults by security forces, with about 2,000 people believed to be trapped in militant-held areas, although the military said this amounts to only about 10 percent of the city.
Herrera said the militants' tactics were making it harder for security forces to carry out attacks without causing civilian casualties and hurting religious sensitivities.
"The local terrorist groups are using the mosque; they are entrenched there," he said. "They also used civilians as human shields ... we are very precise in our operations to avoid collateral damage."
Philippine President Rodrigo Duterte said the militant attack was part of a wider plot by the Islamic State to establish a base in the southern region of Mindanao.
He declared martial law there to quell the threat.
Comments will be moderated. Keep comments relevant to the article. Remarks containing abusive and obscene language, personal attacks of any kind or promotion will be removed and the user banned. Final decision will be at the discretion of the Taipei Times.