UK voters head to the polls as May eyes EU mandate
British voters went to the polls yesterday for an election envisioned to be dominated by the UK's pending departure from the EU, but that ended up focusing on international terrorism following attacks in London and Manchester.
Voters were to choose 650 lawmakers for the House of Commons after British Prime Minister Theresa May called the vote three months early, hoping to boost her majority before starting Brexit negotiations.
However, the attacks prompted her to defend the government's record on terrorism and she promised to crack down on extremism.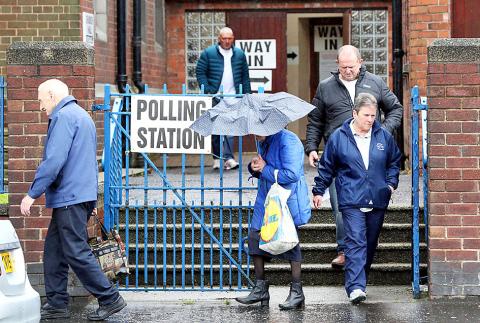 People leave a polling station in Belfast, Northern Ireland, yesterday.
Photo: AFP
Voter Rachel Sheard, who was casting her ballot near the site the attack in London on Saturday last week, said the election had not gone as expected.
"They wanted this election to be very much a kind of Brexit vote and I don't think that's in the hearts and minds of Londoners at the minute, [not] nearly as much as the security is," said Sheard, 22. "It was very scary on Saturday."
Atrocities near Parliament, a Manchester concert venue and London Bridge have left Britain on high alert, with the official threat level at severe, the second-highest rating, indicating an attack is "highly likely."
When May called the election seven weeks ago, she was seeking to capitalize on opinion polls showing that the Conservatives had a wide lead over the opposition Labour Party.
In her final message to voters, May appealed directly to undecided voters, urging them to support her in negotiating the best deal for Britain as it leaves the EU.
"I can only build that better country and get the right deal in Brussels with the support of the British people," she said.
Opposition Labour Party leader Jeremy Corbyn focused his campaign on ending the years of austerity that have followed the global financial crisis.
The polls were to close after press time last night, with early indications showing a strong lead for the Conservatives.
Additional reporting by staff writer
Comments will be moderated. Keep comments relevant to the article. Remarks containing abusive and obscene language, personal attacks of any kind or promotion will be removed and the user banned. Final decision will be at the discretion of the Taipei Times.