Trump offers to mediate between Qatar, neighbors
US President Donald Trump has offered to broker a resolution to the Persian Gulf's escalating diplomatic crisis as both he and Qatar looked past his suggestion only a day earlier that the tiny, gas-rich nation enables terrorism.
In a telephone call on Wednesday with Qatari Emir Sheikh Tamim bin Hamad Al Thani, Trump said he wanted to help Qatar and its Arab neighbors resolve the row that has upended any sense of Gulf unity, suggesting a possible White House summit among leaders.
Although Trump again said countries must eliminate funding streams for terror groups, the White House said he focused on the need for the region's various US allies to stick together.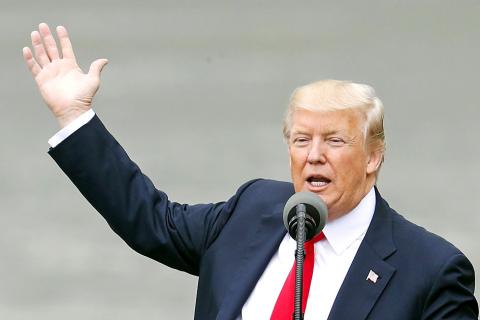 US President Donald Trump speaks at the Rivertowne Marina in Cincinnati on Wednesday.
Photo: AP
Blockaded by its neighbors by land and sea, Qatar is eager for Trump's help.
Qatari Ambassador to the US Meshal bin Hamad Al Thani told reporters that his country is counting on Washington to persuade Saudi Arabia and others to back down.
"We have great confidence in the president's ability to calm this crisis and to resolve it," the ambassador said in an interview.
Trump's bid to fashion himself as a neutral arbiter among Arab governments departed from his stance only a day earlier, when he left little doubt about where he felt the fault rested.
Trump said that Middle East leaders he had met with last month had all "pointed to Qatar" as the source of terrorist financing, waxing optimistically that the isolation of the kingdom might be "the beginning of the end to the horror of terrorism."
Bahrain, Egypt and the United Arab Emirates joined the Saudis earlier this week in cutting diplomatic ties to Qatar, accusing it of backing groups from al-Qaeda and Hamas to the Muslim Brotherhood that threaten the region's other governments.
Qatar vehemently denies such support.
Meshal bin Hamad Al Thani said that he had no idea why Qatar's neighbors were picking a fight.
Qatar received no notice from the other Arab countries before ties were cut, he said, calling it "a surprise and a shock to us, this act of aggression."
He said normal life in Qatar is "not affected" by the blockage and the tiny country maintains sufficient access to other air and sea routes to secure food for its people.
Trump also called Abu Dhabi Crown Prince Mohammed bin Zayed al-Nahyan to reiterate "the importance of maintaining a united Gulf Cooperation Council to promote regional stability, but never at the expense of eliminating funding for radical extremism or defeating terrorism," the White House said in a statement.
Comments will be moderated. Keep comments relevant to the article. Remarks containing abusive and obscene language, personal attacks of any kind or promotion will be removed and the user banned. Final decision will be at the discretion of the Taipei Times.