British police name third London attacker
QUIET MOMENT: The UK fell silent at 11am yesterday in memory of those killed or injured in Saturday night's terror attack, as the nation prepares for tomorrow's polls
British police have named the third London Bridge attacker as 22-year-old Youssef Zaghba and said he is believed to be an Italian national of Moroccan descent.
Police yesterday said Zaghba lived in east London and that his family has been notified, adding that he was not considered to be a "subject of interest" to either police or the intelligence services.
The other two attackers were named on Monday as Khuram Shazad Butt and Rachid Redouane.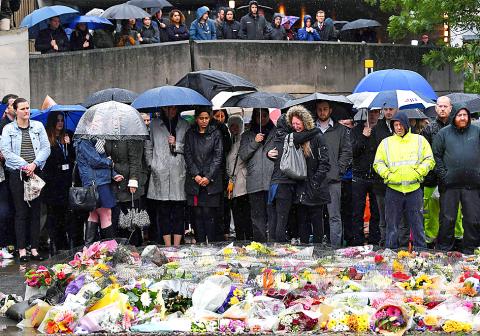 A woman reacts as people yesterday observe a minute's silence at the south side of London Bridge in the British capital in memory of the victims of Saturday night's terror attack.
Photo: AFP
All three were shot dead late on Saturday after ramming a van into pedestrians on London Bridge and then slashing and stabbing people in nearby Borough Market, killing seven people and wounding dozens more.
The Italian daily Corriere della Sera yesterday reported that Zaghba had been stopped in Italy while trying to go to Syria on March 15 last year.
Zaghba, who is said to have been born in Morocco to a Moroccan father and an Italian mother, was stopped at Bologna's Marconi airport as he tried to take a flight to Turkey. He was allegedly on his way to Syria and was carrying only a backpack.
The report said Italy had put him on a watch list and flagged his presence to Moroccan and British authorities.
Zaghba was reportedly working in a London restaurant and had not been seen in Italy since last year.
A British government official who spoke on condition of anonymity because he was not authorized to speak about the investigation confirmed the details of the Italian report, and said the man had not been considered a "person of interest," meaning they had no reason to think he was violent or planning an attack.
Meanwhile, a new search got under way in a neighborhood in east London near the home of two of the London Bridge attackers. The search in Ilford, just north of Barking, is seeking to determine whether the group had accomplices.
Security has become a key issue in the run-up to tomorrow's general election. In particular, there are questions over whether investigators had the resources to look into complaints such as those leveled by Butt's neighbors about his attempts to radicalize children and whether crucial opportunities were missed.
A minute's silence was observed in Britain at 11am yesterday in memory of those killed during the attack.
Comments will be moderated. Keep comments relevant to the article. Remarks containing abusive and obscene language, personal attacks of any kind or promotion will be removed and the user banned. Final decision will be at the discretion of the Taipei Times.