China joins with EU in sticking to Paris climate pact
Chinese Premier Li Keqiang (李克強) yesterday said the world's No. 1 polluter will stick to its pledges to tackle global warming, underscoring the risk of US isolation if US President Donald Trump pulls out of the Paris climate accord.
Li made his comments during a joint news conference with German Chancellor Angela Merkel, at which both leaders stressed the importance of promoting free trade allied to low-carbon, sustainable economic growth.
China accepts its international responsibility and is ready to steer the world toward "green" growth, Li said in Berlin through an interpreter.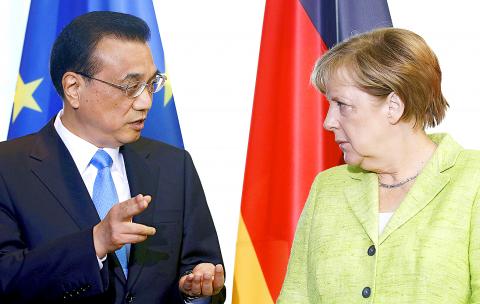 Chinese Premier Li Keqiang, left, talks to German Chancellor Angela Merkel during a contract-signing ceremony at the Chancellery in Berlin yesterday.
Photo: EPA
"In sum, China will honor its commitments in the framework of the Paris climate protection agreement," he said.
Li was speaking ahead of a two-day summit that began in Brussels later in the day, when China and the EU were expected to recommit to free trade and the Paris Agreement in a sweeping rejection of Trump's protectionist policies.
Merkel welcomed Li's announcement that China would stand by its obligations on climate, saying that China and Germany are partners in building a "rules-based international order."
"We agreed that trading nations like Germany and China should cooperate and make clear commitments to free trade," said Merkel, who held a private dinner with Li in the Chancellery on Wednesday evening. "We have underscored those commitments once again."
A draft statement obtained by Bloomberg said the EU and China want climate change and clean energy to "become a main pillar of their bilateral partnership, including in their economic relations."
The two sides also "recognize the importance of developing global free trade and investment," the draft said.
The EU and China in Brussels are to call on all parties to uphold the Paris agreement because climate change is a "national security issue and multiplying factor of social and political fragility, and constitutes a root cause for instability," according to the draft statement.
The joint statement, which will be the first between the China and the EU, commits to cutting back on fossil fuels, developing more "green" technology and helping raise US$100 billion a year by 2020 to help poorer nations cut emissions, Reuters said.
China asked that the annual summit, normally held in mid-July, be brought forward to press home Chinese President Xi Jinping's (習近平) defense of open trade at the World Economic Forum in Davos, Switzerland, in January, in response to Trump's protectionist stance.
"The Americans can't just exit this climate protection treaty," EU Commission President Jean-Claude Juncker, who is to be among the officials meeting Li, said in a speech in Berlin on Wednesday. "I'm opposed to behaving like vassals of the Americans. It's Europe's obligation to say: 'You can't do that.'"
An EU official in Brussels said on Wednesday that the accord concluded in 2015 would stay in force and continue to be implemented even if the US withdrew.
Additional reporting by Reuters
Comments will be moderated. Keep comments relevant to the article. Remarks containing abusive and obscene language, personal attacks of any kind or promotion will be removed and the user banned. Final decision will be at the discretion of the Taipei Times.