New agency to focus on urban renewal
INTERMEDIARY: The new center's mandate is to manage social housing and execute renewal projects, but its first task will be to manage a housing unit for Universiade teams
A national housing and urban renewal agency is to be established to manage public housing and private renewal projects as well as speed up urban redevelopment, the Cabinet announced yesterday.
The new agency is to receive initial funding of NT$40 billion (US$1.33 billion), while the estimated economic benefits are likely to be more than NT$140 billion, Deputy Minister of the Interior Hua Ching-chun (花敬群) said after the Cabinet approved a draft act on a national housing and urban renewal center.
The center is to be an independent government-funded executive agency, responsible for managing social housing, facilitating as well as executing renewal projects, selecting construction companies and making investments.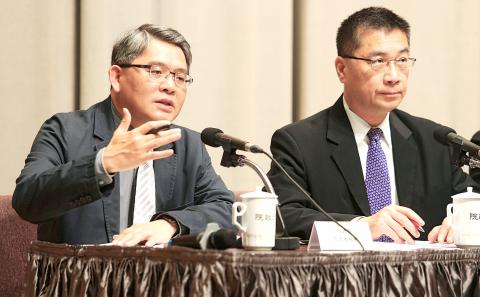 Deputy Minister of the Interior Hua Ching-chun, left, yesterday speaks at a news conference at the Executive Yuan in Taipei as Executive Yuan spokesman Hsu Kuo-yung looks on.
Photo: CNA
The center's first task will be to manage an athletes' village in New Taipei City's Linkou District (林口), a 3,409-unit public housing complex that is to house teams competing in the Taipei Universiade in August, Hua said.
The first urban renewal projects to be managed by the new agency include the redevelopment of a property around the Taipei Child Welfare Center in Xinyi District (信義), areas around a social housing complex in New Taipei City's Fujhou (浮洲) area and an industrial area in its Sindian District (新店).
To help turn President Tsai Ing-wen's (蔡英文) promise to build 200,000 social housing units in eight years into a reality, the center is to serve as an intermediary between the government and the private sector to help resolve property disputes and speed up urban renewal, the Ministry of the Interior said.
Priority would be given to the reconstruction of old buildings and those located in liquefaction-prone areas to increase earthquake resistance, officials said.
At least one-third of the center's board members are to be housing, urban renewal and legal experts in an effort to avoid repeating instances where previous renewal projects gave construction firms disproportionate benefits, Hua said.
"With rules that prevent conflict of interest, the center will not become a 'monster' of urban renewal. It will have to disclose its information and will have no right to execute demolitions or expropriations," he said.
Japan and South Korea have similar agencies, Hua said.
Such centers should also be established at the local government level, and the Taipei City Government has set up a Taipei Urban Redevelopment Center to plan and facilitate renewal projects, he said.
Comments will be moderated. Keep comments relevant to the article. Remarks containing abusive and obscene language, personal attacks of any kind or promotion will be removed and the user banned. Final decision will be at the discretion of the Taipei Times.