BA resumes flights from London after IT meltdown chaos
British Airways (BA) resumed some flights from Britain's two biggest airports yesterday after a global computer system failure created chaos, but hundreds of passengers were still waiting for hours at Heathrow Airport.
The airline said it aimed to operate the majority of services from Heathrow and a near normal schedule from Gatwick Airport. However, Heathrow said it expected further delays and cancelations of BA flights.
At Heathrow's Terminal 5, where BA is the dominant carrier, hundreds of passengers were waiting in line yesterday and flight arrival boards showed canceled flights.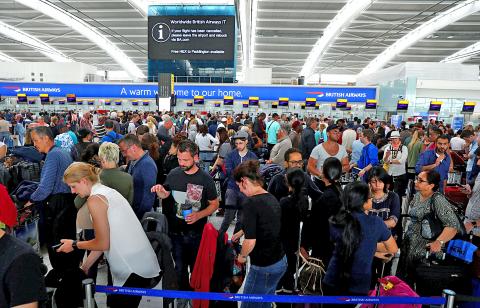 People wait with their luggage at British Airways check in desks at Heathrow Terminal 5 in London yesterday.
Photo: Reuters
British Airways on Saturday canceled all its flights from Heathrow, Europe's busiest airport, and Gatwick after a power supply problem disrupted its flight operations worldwide and also hit its call centers and Web site.
BA chief executive officer said there was no evidence of any cyberattack.
Terminals at Heathrow and Gatwick became jammed with furious passengers, with confused BA staff unable to help as they had no access to their computers, passengers told reporters.
"We are refunding or rebooking customers who suffered cancelations on to new services as quickly as possible," BA said, adding that it had introduced more flexible rebooking policies for passengers affected.
While other airlines have been hit by computer problems, the scale and length of BA's troubles were unusual.
Comments will be moderated. Keep comments relevant to the article. Remarks containing abusive and obscene language, personal attacks of any kind or promotion will be removed and the user banned. Final decision will be at the discretion of the Taipei Times.