Pingtung nursing home fire kills four
Four people were killed and dozens were injured after a fire broke out at a nursing home in Pingtung early yesterday morning, local fire and police officials said.
The fire started on the second floor of the three-story building, with about 55 people sustaining smoke inhalation injuries, fire officials said.
Four people were found dead in the second room to the left of a staircase, the officials said.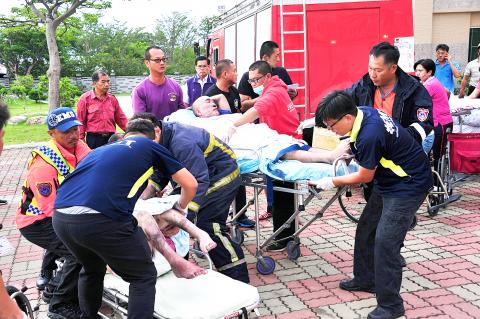 Paramedics attend to the injured on stretchers after a fire broke out at a nursing home in Pingtung County yesterday morning.
Photo: Tsai Tsung-hsien, Taipei Times
Judging by the wheelchairs in the room, the four were apparently unable to move on their own, they said.
The nursing home, with 158 beds for elderly and infirm people, was established in 2004 by Nanmen Hospital, a private institution.
Pingtung County Commissioner Pan Men-an (潘孟安) visited the injured and said the incident highlighted the Hengchun Peninsula's (恆春) urgent need for emergency medical response teams and doctors to treat severe injuries.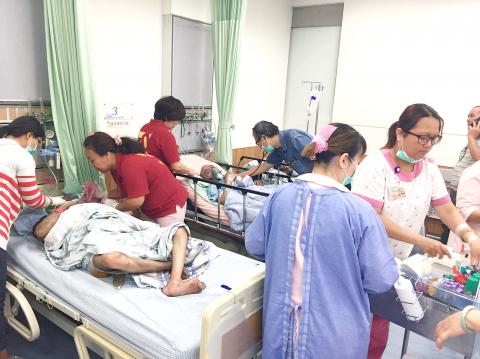 Medical staff yesterday attend to patients at a hospital in Pingtung County after a fire broke out at a private nursing home.
Photo: Tsai Tsung-hsien, Taipei Times
Despite efforts to build up medical facilities and boost medical staff in Hengchun, there are not enough to take care of the local population, he said.
Democratic Progressive Party Legislator Chuang Ruei-hsiung (莊瑞雄), representing a constituency in Pingtung, said he has submitted a proposal for the Executive Yuan to take over the handling of the issue.
Despite a sufficient number of beds, there is a severe lack of medical staff in the area, Chuang said, adding that most patients have to be sent to larger medical facilities in Kaohsiung.
Kaohisung is 120km away, with only the last 40km consisting of a highway, Chuang said.
The trip might take too long for emergency cases, he said.
Chuang called for more emergency aircraft to be stationed at Hengchun Airport and for Taipei Veterans General Hospital to set up a branch in the area to boost Hengchun's medical resources.
The nursing home's manager, Huang Ming-tien (黃明典), convened a news conference to convey his apologies after the fire.
The nursing home had mobilized all staff to evacuate the patients after the fire was detected, Huang said, adding that he found it hard to believe that the fire was caused by a short circuit, as the equipment at the facility is new.
As for allegations that the nursing home was short of staff, Huang said that regulations stipulate that a facility with 150 patients should have a staff of 11.
While several staffers had quit recently, Huang said he and his wife, along with the remaining eight staff, were close to the required number.
Huang said the nursing home would strive to correct any oversight.
Additional reporting by CNA
Comments will be moderated. Keep comments relevant to the article. Remarks containing abusive and obscene language, personal attacks of any kind or promotion will be removed and the user banned. Final decision will be at the discretion of the Taipei Times.