Former FBI boss to head Trump-Russia probe
The US Department of Justice appointed former FBI director Robert Mueller as a special counsel to lead a federal investigation into allegations that US President Donald Trump's campaign team collaborated with Russia to sway last year's election that put him in the White House.
Mueller is to have sweeping powers and the authority to prosecute any crimes he uncovers.
Trump tweeted that it is "the single greatest witch hunt of a politician in American history!"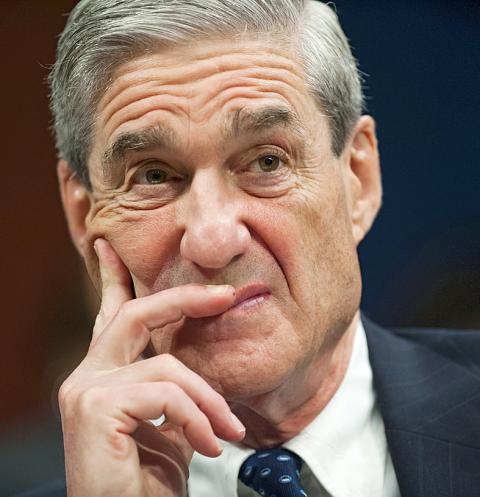 This file photo taken on April 11, 2013 shows FBI Director Robert Mueller testifying before the House Select Intelligence Committee on Capitol Hill in Washington.
Photo: AFP
The surprise announcement to hand the investigation over to Mueller, a lawman with deep bipartisan respect, was a striking shift for the Justice Department, which had resisted increasingly loud calls from Democrats for an outside prosecutor. It immediately escalated the legal stakes — and the potential political damage — for a president who has tried to dismiss the matter as partisan witch hunt and a "hoax."
In a second Twitter post yesterday, Trump said: "With all of the illegal acts that took place in the Clinton campaign & Obama Administration, there was never a special councel [sic] appointed."
The announcement, the latest in the shock-a-day Washington saga, was made by US Deputy Attorney General Rod Rosenstein.
The White House counsel's office was alerted only after the order appointing Mueller was signed, said a senior White House official, who was not authorized to speak publicly by name and commented only on condition of anonymity.
In a written statement, Trump insisted anew there were no nefarious ties between his campaign and Russia.
"A thorough investigation will confirm what we already know — there was no collusion between my campaign and any foreign entity," he said. "I look forward to this matter concluding quickly."
Mueller's broad mandate gives him not only oversight of the Russia probe, but also "any matters that arose or may arise directly from the investigation."
That would surely include Trump's firing last week of FBI director James Comey.
Mueller, a former federal prosecutor, was confirmed as FBI director days before the Sept. 11, 2001, attacks that would ultimately shape his tenure. The FBI's counterterrorism mission was elevated in those years, as the US intelligence agencies adjusted to better position the US to prevent another attack of such magnitude.
He was so valued that then-US president Barack Obama asked him to stay on two years longer than his 10-year term.
Mueller was appointed on Wednesday by Rosenstein, who had faced criticism as the author of a memo that preceded Comey's firing.
Rosenstein said the appointment was "necessary in order for the American people to have full confidence in the outcome."
Comments will be moderated. Keep comments relevant to the article. Remarks containing abusive and obscene language, personal attacks of any kind or promotion will be removed and the user banned. Final decision will be at the discretion of the Taipei Times.