Teacher accused of sexual assault breaks his silence
Cram-school teacher Chen Kuo-hsing (陳國星) on Tuesday broke his silence following accusations that he sexually assaulted a former student Lin Yi-han (林奕含), who committed suicide late last month.
Chen said in a statement that he is not Lee Kuo-hua (李國華), a character in Lin's novel published in February last year.
The character, Lee, is a cram-school teacher who rapes and sexually abuses several of his female students.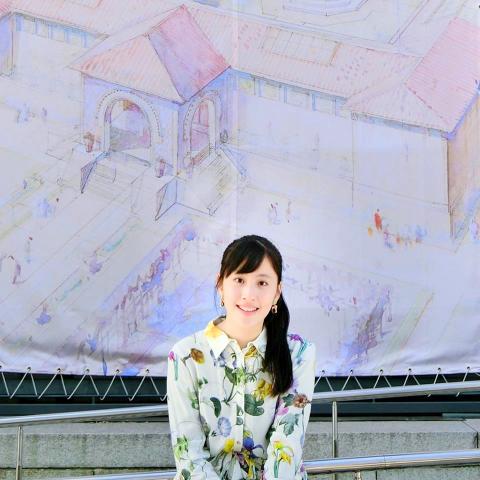 Author Lin Yi-han, who committed suicide on April 27, is pictured in an undated photograph.
Photo: Wang Chieh, Taipei Times
In an interview, Lin said that the character was "based on someone she knew in real life."
Her parents said after her death that the female student characters in the novel were Lin's alter egos and that the events depicted in the novel were true.
Chen said that he and Lin began dating in August 2009 when Lin was no longer his student and had started college.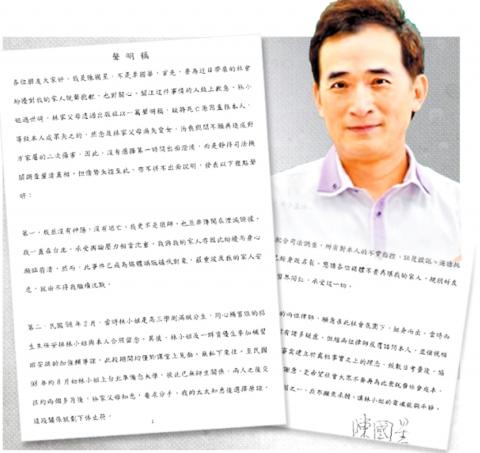 Cram-school teacher Chen Kuo-hsing is pictured next to a statement he issued on Tuesday about his relationship with writer Lin Yi-han, who killed herself on April 27.
Photo: copied by Wang Chun-chung, Taipei Times
He said that before August 2009, when Lin was enrolled in his class, the two had never met in private.
Chen rejected allegations that he had "coaxed Lin into having sex," adding that he was only guilty of having an extramarital affair.
After the affair came to light, Lin's parents demanded that the two stop seeing each other, Chen said, adding that his wife chose to forgive his infidelity.
He denied that he had deliberately hidden from the public, saying that he did not want to cause Lin's family more pain while they arranged her funeral.
He also denied that Lin had depression because of him, saying that she had suffered from depression since she was 16 years old, before the two had met.
"In hindsight, Ms Lin had often felt unhappy due to exam-related stress and the distance between her learning and her passion," Chen said.
"Lin's novel was not autobiographical. Lin said at a news conference to promote the book that she was not Fang Ssu-chi (房思琪) [the protagonist in the novel]," he said. "Lin's novel is a work of fiction throughout which space-time juxtapositions are created."
Chen said that he would cooperate with investigations into accusations of sexual assault.
He said that he and his family had been on the brink of an emotional breakdown after the groundless accusations against him made the headlines, pleading with society not to continue hurting his friends and family.
Taiwan Gender Equity Education Association chairwoman Chuang Shu-ching (莊淑靜) said that students are traditionally expected to be obedient to their teachers and that Lin likely developed an admiration for Chen, which could have led to an affair.
Parents are often concerned that sex education will tempt their children to have intercourse, but this incident shows the dangers children face cannot be prevented by discarding sex education, Chang said.
It also shows that children that have become alienated from their parents are at a greater risk of sexual abuse, she said.
Humanist Education Foundation executive director Joanna Feng (馮喬蘭) criticized Chen for allegedly dating Lin, saying that Lin was a minor whose mind likely had not fully developed.
Chen has no right to unilaterally interpret what happened between himself and Lin, Feng said.
Comments will be moderated. Keep comments relevant to the article. Remarks containing abusive and obscene language, personal attacks of any kind or promotion will be removed and the user banned. Final decision will be at the discretion of the Taipei Times.