In defiance of world pressure, N Korea test-fires a missile
North Korea test-fired a ballistic missile on Saturday, shortly after US Secretary of State Rex Tillerson warned that failure to curb Pyongyang's nuclear and ballistic missile programs could lead to "catastrophic consequences."
US and South Korean officials said the test, from an area north of the North Korean capital, appeared to have failed, in what would be the North's fourth consecutive unsuccessful missile test since last month.
The test came as the USS Carl Vinson aircraft carrier group arrived in waters near the Korean Peninsula, where it began exercises with the South Korean navy yesterday, about 12 hours after the failed launch, a South Korean navy official said.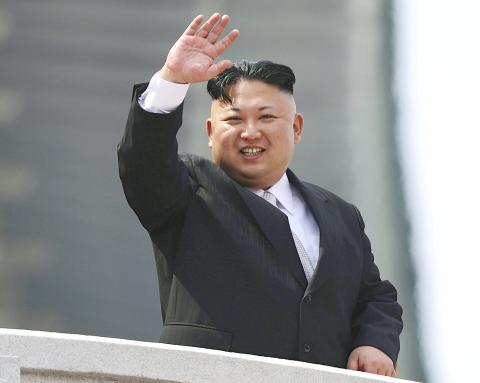 North Korean leader Kim Jong-un waves during a military parade in Pyongyang on April 15.
Photo: AP
Tillerson, in a UN Security Council meeting on North Korea on Friday, repeated US President Trump's position that all options were on the table if Pyongyang persisted with its nuclear and missile development.
"The threat of a nuclear attack on Seoul, or Tokyo, is real, and it's only a matter of time before North Korea develops the capability to strike the US mainland," Tillerson said. "Failing to act now on the most pressing security issue in the world may bring catastrophic consequences."
Trump said the launch was an affront to China, the North's main ally.
"North Korea disrespected the wishes of China & its highly respected President when it launched, though unsuccessfully, a missile today. Bad!" Trump said in a post on Twitter after the launch.
Japanese Prime Minister Shinzo Abe condemned the test as a grave threat to the international order.
"I urged Russia to play a constructive role in dealing with North Korea," Abe told reporters in London. "Japan is watching how China will act in regard to North Korea."
US officials, speaking on condition of anonymity, said the North Koreans had probably tested a medium-range missile known as a KN-17 which appeared to have broken up within minutes of taking off.
The South Korean military said the missile reached an altitude of 71km before disintegrating. It said the launch was a clear violation of UN resolutions and warned the North not to act rashly.
With North Korea acting in defiance of the pressure, the US could conduct new naval drills and deploy more ships and aircraft in the region, a US official told reporters.
Comments will be moderated. Keep comments relevant to the article. Remarks containing abusive and obscene language, personal attacks of any kind or promotion will be removed and the user banned. Final decision will be at the discretion of the Taipei Times.