Beijing threatened North Korea with sanctions: Tillerson
China has threatened to impose sanctions on North Korea if it conducts further nuclear tests, US Secretary of State Rex Tillerson said on Thursday.
"We know that China is in communications with the regime in Pyongyang," Tillerson said on Fox News Channel. "They confirmed to us that they had requested the regime conduct no further nuclear test."
Tillerson said China also told the US that it had informed North Korea "that if they did conduct further nuclear tests, China would be taking sanctions actions on their own."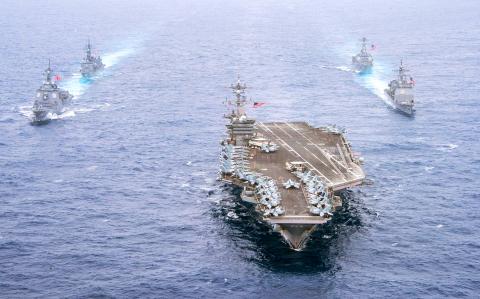 USS Carl Vinson, center, leads US and Japanese warships during a transit of the Philippine Sea toward the Korean Peninsula for an exercise with South Korea.
Photo: AP
Earlier on Thursday, the senior US Navy officer overseeing military operations in the Pacific said the crisis with North Korea is at the worst point he has ever seen, but he declined to compare the situation to the Cuban missile crisis decades ago.
"It's real," US Admiral Harry Harris, commander of the US Pacific Command, said during testimony before the US Senate Armed Services Committee.
Harris said he has no doubt that North Korean leader Kim Jong-un intends to fulfill his pursuit of a nuclear-tipped missile capable of striking the US.
Harris said there is uncertainty within US intelligence agencies over how far along North Korea's nuclear and missile programs are.
However, it is not a matter of if, but when, Harris said.
"There is no doubt in my mind," he said.
Harris said he has adequate forces to "fight tonight" against North Korea if that were to become necessary.
The Chinese Ministry of Foreign Affairs had no immediate comment on Tillerson's remarks on new sanctions, but a spokesman said Beijing remained committed to implementing sanctions imposed under UN Security Council resolutions.
"The reason that China implements relevant resolutions is to fulfill our due international obligation rather than being pressured by any outside parties," ministry spokesman Geng Shuang (耿爽) told a daily news conference.
China has consistently called for an end to North Korea's nuclear weapons program, but says it opposes unilateral sanctions imposed without a UN mandate.
China in January suspended coal imports from the North for the rest of the year, but it did so following the passage of a UN Security Council resolution capping Pyongyang's coal exports.
Other economic activity with North Korea remains robust.
Still, Beijing has been increasing pressure on North Korea and would be willing to impose punitive measures unilaterally in the event of another nuclear test, Renmin University associate professor of international relations Cheng Xiaohe (成曉河) said.
"So Tillerson's comments are correct — but be careful, China does so for China's national interest, not as a result of US pressure," Cheng said
The Trump administration has declared that all options, including a targeted military strike, are on the table to block North Korea from carrying out threats against the US and its allies in the region.
However, a pre-emptive attack is not likely, US officials have said, and the administration is pursuing a strategy of putting pressure on Pyongyang with assistance from China, North Korea's main trading partner and the country's economic lifeline.
Comments will be moderated. Keep comments relevant to the article. Remarks containing abusive and obscene language, personal attacks of any kind or promotion will be removed and the user banned. Final decision will be at the discretion of the Taipei Times.