Trump spurns Tsai's telephone call suggestion
'AMAZING JOB': Donald Trump heaped praise on Xi Jinping, saying he has a good relationship with the Chinese leader and does not want to cause him any trouble
US President Donald Trump on Thursday spurned President Tsai Ing-wen's (蔡英文) suggestion that the two leaders hold another telephone call, saying he did not want to create problems for Chinese President Xi Jinping (習近平) when Beijing appears to be helping efforts to rein in North Korea.
In a White House interview, Trump brushed aside the idea after Tsai on Thursday told reporters that she would not rule out talking directly to the US president again, an act certain to incense China.
"Look, my problem is I have established a very good personal relationship with President Xi. I really feel that he is doing everything in his power to help us with a big situation," Trump told reporters, referring to signs that China might be working to head off any new missile or nuclear test by Pyongyang, Beijing's neighbor and ally.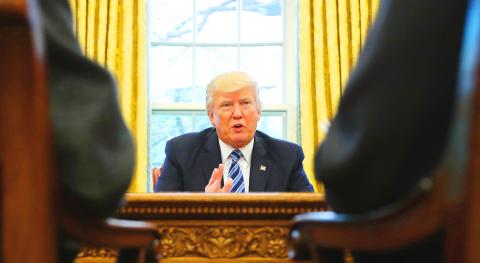 US President Donald Trump speaks during an interview in the Oval Office in Washington on Thursday.
Photo: Reuters
"So I wouldn't want to be causing difficulty right now for him," Trump added. "I think he's doing an amazing job as a leader and I wouldn't want to do anything that comes in the way of that. So I would certainly want to speak to him first."
As US president-elect in early December last year, Trump took a congratulatory telephone call from Tsai. It was the first known contact between a leader of Taiwan and an incumbent or incoming US president in nearly four decades, and Trump cast doubt on Washington's long-standing policy of acknowledging Beijing's "one China" principle, which asserts that Taiwan is a part of China.
Trump agreed to honor the US' "one China" policy in February and then hosted Xi at his Florida resort earlier this month.
Trump's dismissal of Tsai's suggestion underscored the importance he is placing on enlisting China's help in defusing tension with North Korea, which has become his biggest national security challenge since taking office in January, 100 days ago today.
Chinese Ministry of Foreign Affairs spokesman Geng Shuang (耿爽) urged Taiwan to pay attention to the US' reaction.
"We consistently oppose countries which have diplomatic relations with China having any form of official exchanges with Taiwan," Geng told a daily news conference yesterday. This position is very clear and very firm."
Tsai on Thursday said Taiwan's ties with the US have been improving.
She said Taiwan might need to buy the Lockheed Martin F-35 Lightning II jet, the most advanced stealth warplane in the US arsenal, from its sole arms supplier.
"We don't rule out any items that would be meaningful to our defense and our defense strategy and the F-35 is one such item," Tsai said.
However, when told Taiwan's president had said the nation might want to buy F-35 aircraft, Trump said: "Oh, I haven't been informed. I'd have to think about that. I'd have to speak to my people about that. They [the Taiwanese government] do buy a lot of equipment from us."
The Chinese Ministry of National Defense on Thursday said it was resolutely opposed to any country selling arms to Taiwan.
The Global Times, an influential Chinese Communist Party-backed tabloid, called Tsai's government "a naughty child" in an editorial yesterday and said it would "strongly counter" any move to sell Taiwan advanced fighter jets.
"Each time the Tsai Ing-wen authorities step out of line they will pay the price, like a naughty child in class getting a stern reprimand for shouting out or smashing the glass at school," it said.
Comments will be moderated. Keep comments relevant to the article. Remarks containing abusive and obscene language, personal attacks of any kind or promotion will be removed and the user banned. Final decision will be at the discretion of the Taipei Times.