Suspect held over Dortmund attack
German investigators yesterday detained a suspect over three explosions that rocked the Borussia Dortmund soccer team's bus, prosecutors said, confirming that the probe was examining a possible "terrorist link."
The roadside blasts left Dortmund's Spain international Marc Bartra and a police officer injured, with the bombs "containing metal pieces" detonating minutes after the team bus set off to a UEFA Champions League game against AS Monaco on Tuesday night.
The blast had a radius of more than 100m, federal prosecutors said, adding it was lucky the toll was not more severe.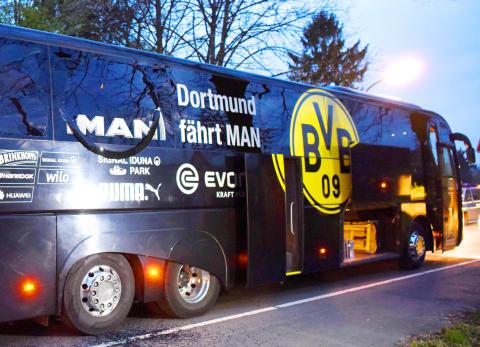 Borussia Dortmund's damaged bus is pictured after an explosion about 10km away from the stadium prior to their UEFA Champions League quarter-final first leg against AS Monaco in Dortmund, Germany, on Tuesday.
Photo: AFP
The match was put back to yesterday as security was ratcheted up in Dortmund and Munich, where Bayern Munich were due to take on Real Madrid, but a defiant Dortmund vowed not to "give in to terror," with players returning to the pitch for training.
Federal prosecutor's office spokeswoman Frauke Koehler said the probe was examining a possible "terrorist link" after three identical letters were found at the scene.
"An Islamist background appears to be possible," she said, noting that the letter demanded that Germany withdraw from international coalition against the Islamic State group and close the US air base in the town of Ramstein.
"Two suspects from the Islamist spectrum have become the focus of our investigation. Both of their apartments were searched and one of the two has been detained," she added.
Following the attack, hundreds of Dortmund fans offered visiting Monaco supporters a bed for the night.
Within minutes of confirmation that the quarter-final first leg had been postponed, the hashtag #BedsForAwayFans was being used on Twitter to connect stranded Monaco fans with places to stay in the city.
Stephanie Lentz, a nurse from Saverne, in the northeast of France, who had traveled to the match with her brother and a friend, said they received several offers and met up with Dortmund fan Michael Seine.
"Our host was very sympathetic. He was homely and gave us a warm welcome. For him it was [the] natural thing to do," Lentz said. "Some people think football fans are crazy or violent, but the true values of football is what the Dortmund fans made with their hospitality yesterday."
Barbara Welding, a Dortmund fan who lives close to the stadium, hosted two Monaco fans after offering her home on Twitter.
"It was their very first time in the stadium. We had a drink together and talked about the day," she said. "It was easy to offer our home."
Hotel owner and Dortmund supporter Ute Uhlenkltt offered rooms free of charge after hearing that the match had been postponed.
"It was the only thing I could do," she said. "I wanted to show solidarity and as a Dortmund fan, if something happened to my family or children, I would hope someone would do the same for us."
Comments will be moderated. Keep comments relevant to the article. Remarks containing abusive and obscene language, personal attacks of any kind or promotion will be removed and the user banned. Final decision will be at the discretion of the Taipei Times.