US-China Relations: No compromises on Taiwan: White House
'CLOSE COMMUNICATION': Ministry of Foreign Affairs spokeswoman Eleanor Wang said the US trades opinions with Taipei before events such as the Trump-Xi summit
A White House official on Wednesday gave an assurance that the upcoming talks between US President Donald Trump and Chinese President Xi Jinping (習近平) would not involve a trade-off on the Taiwan issue.
Trump in February reaffirmed the US' "one China" policy, which is consistent with the Three Joint Communiques and US obligations under the Taiwan Relations Act (TRA), US National Security Council Senior Director for Asia Matt Pottinger said.
"I can say that there is no such thing as some kind of a trade along the lines of what you just mentioned, though," he said in a briefing at the Foreign Press Center in Washington, in response to a question on the possibility that Xi might want Trump to abide by Beijing's "one China" principle in exchange for China's cooperation on North Korea.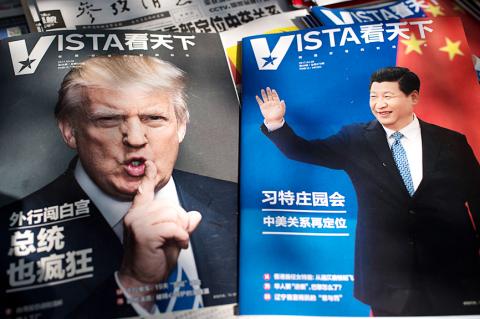 Magazines featuring front pages of US President Donald Trump, left, and China`s President Xi Jinping, right, are displayed at a news stand in Beijing yesterday. The two are to meet at Trump`s Mar-a-Largo resort in Florida.
Photo: AFP
In his first telephone conversation with Xi in February, Trump committed himself to honoring the "one China" policy at Xi's request, after having suggested in December last year that US backing for the policy might be contingent on a trade deal with Beijing.
Asked if Trump would discuss the "one China" policy with Xi, US Acting Assistant Secretary of State for East Asian and Pacific Affairs Susan Thornton said the Chinese might raise the issue, although Trump is probably not going to raise it.
In the Trump-Xi telephone conversation and in subsequent high-level meetings between US and Chinese officials, Washington reaffirmed its long-standing "one China" policy, which is based on the Three Joint Communiques and the TRA, Thornton said.
Washington has also made it clear that it stands by all the commitments that it has undertaken in the context of the TRA, she said.
The law passed by US Congress just months after Washington switched diplomatic recognition from Taipei to Beijing governs US relations with Taiwan in the absence of official ties.
"So, I don't think that there's going to be any lack of clarity on what our 'one China' policy is in the context of the upcoming meeting," she added.
Trump was scheduled to host Xi for a summit yesterday and today at his Mar-a-Lago estate in Florida.
It is to be their first meeting since Trump took office in January.
Ministry of Foreign Affairs spokesperson Eleanor Wang (王珮玲) yesterday morning said that there were "close communication channels" between Taipei and Washington, claiming that the US usually trades opinions with Taiwan before and after such events.
"We believe that the US will adhere to past practices," Wang said.
Wang said that the US has had thorough communication with Taiwan beforehand, adding that Thornton and other senior officials in the White House have assured that the US would uphold all promises to Taiwan as stipulated under the TRA.
Additional Reporting by Peng Wan-hsin
Comments will be moderated. Keep comments relevant to the article. Remarks containing abusive and obscene language, personal attacks of any kind or promotion will be removed and the user banned. Final decision will be at the discretion of the Taipei Times.