May's 'Article 50' letter delivered by hand to EU's Tusk
Britain yesterday launched the process to leave the EU, saying there was "no turning back" from the historic move that has split the country and thrown the bloc's future into question.
Just days after the EU's 60th birthday, Britain became the first country ever to seek a divorce, striking a blow at the heart of the union forged from the ashes of World War II.
"This is an historic moment from which there can be no turning back," British Prime Minister Theresa May told lawmakers in parliament.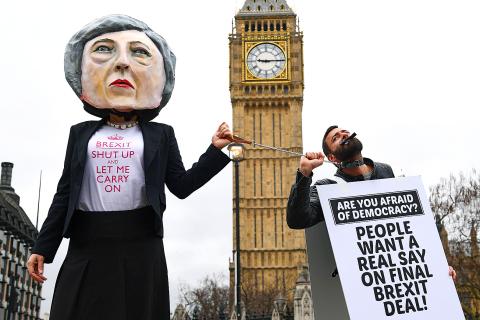 A demonstrator wearing a mask depicting British Prime Minister Theresa May, protests against the UK's triggering of Article 50, outside the Houses of Parliament in London yesterday.
Photo: AFP
Nine months after the shock referendum vote for Brexit, Britain triggered Article 50 of the EU's Lisbon Treaty, starting the countdown to leaving the bloc.
In a six-page letter sent to EU President Donald Tusk, May wrote that Britain and the EU must "work hard" to avoid a failure in Brexit negotiations, calling it a "momentous" challenge.
May also called for negotiations on the exit and on future trade ties to be worked out "alongside" each other, although the EU has said the new trading relationship should only be discussed after Brexit is agreed.
"We already miss you," Tusk in Brussels after receiving the letter formally notifying him of Britain's intention to leave.
The letter was delivered in person by British Ambassador to the EU Tim Barrow.
It sets the stage for months of protracted and difficult negotiations between London and Brussels over outstanding bills, immigration and future trade ties.
"We must not forget that the UK is still a partner, in NATO and in Europe," a spokeswoman for German Chancellor Angela Merkel said.
The Article 50 letter would give "more clarity" on Britain's strategy, and "on this basis, the 27 [other] member states and EU institutions will define their interests and aims," the spokeswoman said.
In her letter, May repeated that the vote for Brexit was not intended to harm the EU, and said she wanted a "new deep and special relationship with a strong European Union."
It could be weeks before formal talks start, as the leaders of the other EU nations will meet on April 29 to forge their response.
Comments will be moderated. Keep comments relevant to the article. Remarks containing abusive and obscene language, personal attacks of any kind or promotion will be removed and the user banned. Final decision will be at the discretion of the Taipei Times.