US Congress to probe Trump's wiretap claims
FBI DISPUTES IT: The FBI's director has reportedly said that the Department of Justice must correct the claim because it insinuates that the FBI broke the law
Key members of Congress say they would honor US President Donald Trump's request to investigate his unsubstantiated claim that former US president Barack Obama overstepped his authority as president and had Trump's telephones tapped during the election campaign.
A US official said the FBI has asked the US Department of Justice to dispute Trump's allegation, although no such statement has yet been issued.
Obama's intelligence director also said no such action was ever carried out.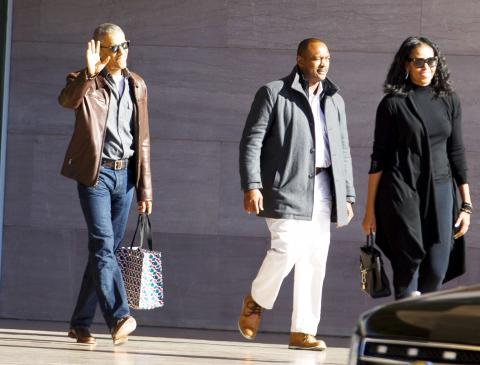 Former US president Barack Obama, left, and his wife, Michelle Obama, right, leave the Smithsonian's National Gallery of Art in Washington on Sunday.
Photo: AP
Trump's startling claim of presidential abuse of power, made without evidence in a series of tweets early on Saturday, came amid the swirl of allegations — and revelations — about contacts between Trump aides and Russia's ambassador to the US, both during and after a presidential election Russia is believed to have meddled in.
Trump is said to be frustrated by his senior advisers' inability to tamp down the Russia issue.
The US House of Representatives and Senate intelligence committees, and the FBI, are investigating the contacts, and Trump on Sunday demanded that they broaden the scope of their inquiries into Russian meddling in last year's election to include Obama's potential abuse of his executive powers.
Senate Intelligence Committee Chairman Richard Burr, a Republican, said in a statement that the panel "will follow the evidence where it leads, and we will continue to be guided by the intelligence and facts as we compile our findings."
US Representative Devin Nunes, the Republican chairman of the House Intelligence Committee, said in a statement that the committee "will make inquiries into whether the government was conducting surveillance activities on any political party's campaign officials or surrogates."
Trump's request carries some risk, particularly if the committees unearth damaging information about him or his associates.
Committee Democrats will have access to the information and could wield anything negative against the president.
Asking Congress to conduct a much broader investigation than originally envisioned also ensures the Russia issue will hang over the White House for months.
Obama's director of national intelligence, James Clapper, said on Sunday that nothing matching Trump's claims had taken place.
"Absolutely, I can deny it," Clapper said on NBC television's Meet the Press.
Other Obama representatives also denied Trump's allegation.
Josh Earnest, who was Obama's White House press secretary, said presidents do not have authority to unilaterally order the wiretapping of US citizens.
FBI investigators and Justice Department officials must seek approval from a federal judge for such a step.
Earnest told ABC's This Week that Trump was leveling the allegation to distract from the attention being given to the Russia issue.
The New York Times reported that senior US officials say FBI Director James Comey has argued that the Justice Department must correct the claim because it falsely insinuates that the FBI broke the law.
Comments will be moderated. Keep comments relevant to the article. Remarks containing abusive and obscene language, personal attacks of any kind or promotion will be removed and the user banned. Final decision will be at the discretion of the Taipei Times.