Japan on alert after N Korean missiles fired
Japan yesterday moved to the highest possible alert level after North Korea fired four ballistic missiles simultaneously into nearby waters, the latest provocation from North Korean leader Kim Jong-un's regime.
Three of the missiles fell into Japan's exclusive economic zone, with one dropping about 350km west of Akita Prefecture, Japanese Chief Cabinet Secretary Yoshihide Suga told reporters after a meeting of the National Security Council.
Japanese authorities were still analyzing the type of missile launched, Suga said.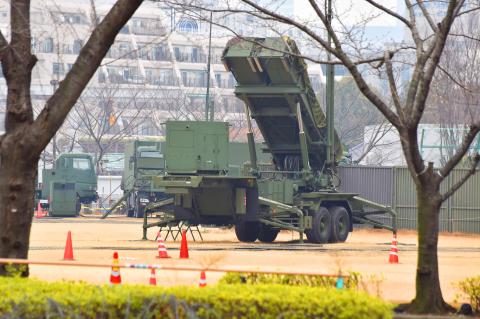 A Patriot Advanced Capability-3 missile launcher unit, center, is seen in position yesterday at the Japanese Ministry of Defence in Tokyo.
Photo: AFP
The launches "clearly show that this is a new level of threat" from North Korea, Japanese Prime Minister Shinzo Abe told lawmakers in Tokyo.
US officials held telephone calls afterward with counterparts in Japan and South Korea, which rely on the US for security.
"North Korea's nuclear and missile capabilities have really improved, and they are becoming more difficult to predict," Abe said in parliament, adding: The missiles "are getting closer to Japan's waters and territory."
While North Korea routinely test-fires missiles — including more than two dozen last year — the timing of these launches is particularly sensitive.
Tensions have escalated in recent weeks between China and South Korea over US plans to deploy a missile-defense system known as Terminal High Altitude Area Defense (THAAD) on the Korean Peninsula, part of measures to thwart Kim from gaining the ability to strike the continental US with a nuclear warhead.
The launches also come as South Korea and the US undertake annual military drills that Pyongyang calls a prelude to an invasion, and right after the start of the Chinese National People's Congress in Beijing.
South Korean Acting President Hwang Kyo-ahn condemned the launches as a direct challenge to the international community and said that Seoul would swiftly deploy the THAAD system.
The missiles, launched early yesterday from the country's northwest, flew about 1,000km into the East Sea, also known as the Sea of Japan, South Korea's Joint Chiefs of Staff (JCS) spokesman Roh Jae-cheon told reporters in Seoul.
There was a "low chance" the projectiles were intercontinental ballistic missiles, he said.
South Korean lawmaker Kim Young-woo, chairman of parliament's National Defense Committee who was briefed by the JCS, said that the projectile looks similar to the Pukguksong-2 missile that North Korea test-fired last month.
"It seems like the North lowered the angle to aim longer in distance this time as part of its attempts to test it in various ways," Kim Young-woo said by telephone.
France condemned the missile firings.
A French Ministry of Foreign Affairs statement said that Paris would consult UN Security Council members on the issue.
Kremlin spokesman Dmitry Peskov said Moscow is seriously worried about the missile drills.
"These are the sort of actions that lead to a rise in tension in the region and of course in this situation, traditionally, Moscow calls for restraint from all sides," Peskov told a conference call with reporters.
Additional reporting by Reuters
Comments will be moderated. Keep comments relevant to the article. Remarks containing abusive and obscene language, personal attacks of any kind or promotion will be removed and the user banned. Final decision will be at the discretion of the Taipei Times.