Democratic Party elects Tom Perez as chairman
'IN THIS TOGETHER': Perez and rival Keith Ellison agreed to capitalize on the opposition to Trump while rebuilding moribund state and local party organizations
When former US secretary of labor Tom Perez stepped onto the stage as the newly elected chairman of the US Democratic Party, his first official act was to invite his vanquished rival to join him as deputy chairman.
Minnesota Representative Keith Ellison accepted on the spot and the two men stood together, smiling like a national ticket at a presidential nominating convention.
Members of the Democratic National Committee (DNC) cheered wildly at their gathering in Atlanta on Saturday, forgetting the competitive race that took two rounds of voting — unprecedented in recent memory for either major party.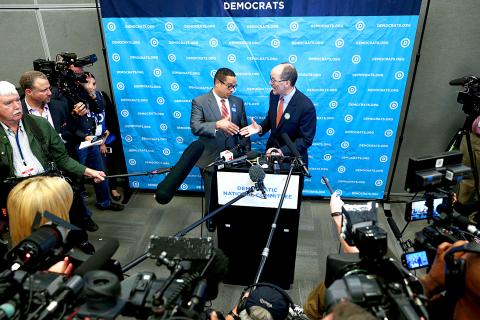 Assistant Democratic National Chair Keith Ellison, left, and Democratic National Chair, Tom Perez attend a news conference during a Democratic National Committee meeting in Atlanta on Saturday.
Photo: Reuters
They picked Perez, backed by former US president Barack Obama, over Ellison, the liberal Minnesota congressman backed by liberal icon Senator Bernie Sanders.
Yet, piercing the cheers were the boos, yells and expletives from more than a few young Ellison supporters in the gallery, some of them in tears.
Reaction was not enthusiastic among the liberal groups that embraced Sanders' presidential campaign and have intensified their efforts since the election of US President Donald Trump.
"We don't have the luxury of walking out of this room divided," Ellison said over the jeers.
Afterward, he told reporters he trusts Perez and that the burgeoning resistance movement aimed at Trump should do the same.
The reaction on Saturday — and the unusual campaign that preceded it — underscores the challenges Perez and Democrats face as they look to recover from a disastrous electoral slide that was obscured by Obama's two national victories, but laid bare by failed US presidential candidate Hillary Rodham Clinton's stinging defeat.
Now, besides Trump occupying the Oval Office, Republicans control US Congress and about two-thirds of statehouses, and they are one Senate confirmation vote away from a conservative majority on the Supreme Court.
"We suffer from a crisis of confidence ... a crisis of relevance," Perez told committee members ahead of his election.
Trump took to his preferred medium to rub it in.
"Congratulations to Thomas Perez, who has just been named Chairman of the DNC. I could not be happier for him, or for the Republican Party!" he tweeted.
Perez and Ellison have agreed to capitalize on the widespread opposition to Trump while rebuilding moribund state and local party organizations.
"We are all in this together," Perez said.
Repeating a line he has used for weeks while campaigning for the post, he praised public demonstrations against Trump as a statement from "millions of Americans" that "Donald Trump does not represent our values."
However, it was Ellison who tapped so much of that anti-Trump energy.
Sanders released a statement congratulating Perez, but warned "it is imperative that Tom understands that the same-old, same-old is not working."
Jeff Weaver, who managed Sanders' presidential campaign and now runs the offshoot Our Revolution group, said Perez and Ellison must prove themselves as a leadership duo.
"Do they really invest in 50 state parties? Are they really going to engage with people in the streets?" Weaver asked. "Are they really going to bring those people into the party, so that you have a much broader cross-section of democratically aligned voters represented?"
Perez promised "a culture change" at the top echelons of the party, saying "we have a lot of work to do."
Comments will be moderated. Keep comments relevant to the article. Remarks containing abusive and obscene language, personal attacks of any kind or promotion will be removed and the user banned. Final decision will be at the discretion of the Taipei Times.