Trump back to governing after rally
One day after delighting in a massive campaign-style rally, US President Donald Trump was turning back to the business of governing.
Trump, who spent the weekend at his private club in Florida, planned to spend yesterday interviewing at least four candidates to be his new national security adviser. The meetings come as he seeks to refocus his struggling administration after weeks of tumult.
Speaking to reporters on Air Force One on Saturday, Trump said he had "many, many that want the job."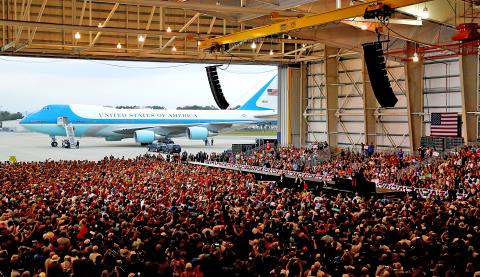 Air Force One sits in front of a crowd-filled hangar on Saturday as US President Donald Trump, at podium, holds a "Make America Great Again" rally at Orlando-Melbourne International Airport in Melbourne, Florida.
Photo: Reuters
He also hinted he had a favorite.
"I've been thinking about someone for the last three or four days, we'll see what happens," Trump said. "I'm meeting with that person. They're all good, they're all great people."
Scheduled to discuss the job with the president at Mar-a-Lago were his acting adviser, retired US Army Lieutenant General Keith Kellogg; former US ambassador to the UN John Bolton; US Army Lieutenant General H.R. McMaster and the superintendent of the US Military Academy at West Point, Lieutenant General Robert Caslen.
White House spokesman Sean Spicer said there could be more meetings for the job, which is unexpectedly open after retired General Michael Flynn's firing last week.
Also on Trump's schedule were telephone conversations with several foreign leaders and a healthcare policy meeting.
However, for a moment on Saturday, Trump went back into campaign mode with a massive rally before thousands of supporters at an airplane hangar in Melbourne, Florida, where he revived campaign promises to build a border wall along the US-Mexico border, reduce regulations and create jobs — and continued his attacks on the media.
Trump told the cheering crowd that he wanted "to speak to you without the filter of the fake news."
He promised anew to build a border wall along the US-Mexico border, reduce regulations and create jobs.
He also pledged to "do something over the next couple of days" to address the immigration order that has been blocked in the courts.
"We don't give up, we never give up," he said.
Insisting he was the victim of false reporting, Trump said his White House was running "so smoothly" and that he "inherited one big mess."
"We are here today to speak the truth, the whole truth and nothing but the truth," he said.
However, he then offered several misleading claims: that refugees coming into the US are not screened, that jobs are pouring back in and that crime is high in Chicago and the country at large.
As the New York Times pointed out in a fact-checking story, refugees admitted to the US are vetted, and it takes two years; US job data showed only modest gains, with 227,000 jobs added last month and the unemployment rate remaining at 4.8 percent, according to the US Bureau of Labor Statistics; and that while crime is high in Chicago, overall, violent crime and property crime have fallen in the US since the early 1990s.
The rally was put on by Trump's campaign, not the White House. Trump told reporters he was holding a campaign rally because "life is a campaign."
Additional reporting by NY Times News Service
Comments will be moderated. Keep comments relevant to the article. Remarks containing abusive and obscene language, personal attacks of any kind or promotion will be removed and the user banned. Final decision will be at the discretion of the Taipei Times.