Malaysia arrests two more linked to N Korean's death
Malaysian authorities yesterday announced the second and third arrests in the death of North Korean leader Kim Jung-un's half brother, whose apparent assassination this week unleashed tales of spectacular intrigue: a pair of female assailants, a broad-daylight killing and a sibling out for blood.
Investigators were still piecing together details of the case, which hinges in part on speculation that Kim dispatched a hit squad to kill his estranged half brother, Kim Jung-nam, who loved gambling and casinos and lived abroad for years, knowing he was a hunted man.
The three suspects — two women and a man — were picked up separately on Wednesday and early yesterday.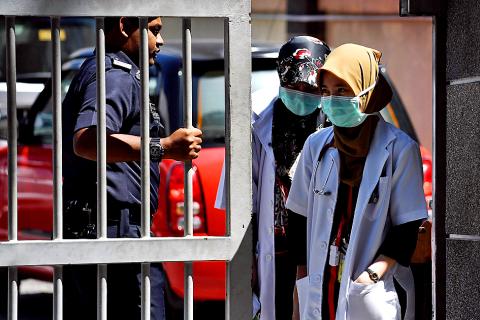 A Malaysian policeman holds a gate as medical staff leave the forensic wing at a hospital in Kuala Lumpur yesterday. The body Kim Jong-nam, North Korean leader Kim Jong-un half-brother, was autopsied at the hospital.
Photo: AFP
The women were identified using closed-circuit TV footage from Kuala Lumpur International Airport, where Kim Jong-nam, who was 45 or 46, suddenly fell ill on Monday morning.
He died on the way to the hospital, after telling medical workers at the airport that he had been sprayed with a chemical, said two senior Malaysian government officials, who spoke on condition of anonymity because of the sensitive diplomatic issues involved.
Multiple South Korean media reports, citing unidentified sources, said two women believed to be North Korean agents killed him with some kind of poison before fleeing in a taxi.
One of the female suspects had Vietnamese travel documents and was picked up on Wednesday at the budget terminal of the airport, where the alleged attack took place. The other woman held an Indonesian passport and was arrested early yesterday.
Police said they were working to determine if the IDs were genuine.
It was not immediately clear if the women, both in their 20s, according to the IDs, were believed to be the suspected assassins.
A still photograph of the airport CCTV video, confirmed as authentic by police, showed one of the suspects in a T-shirt with "LOL" across the front.
News of the third arrest came yesterday afternoon.
Police said they had detained a Malaysian man who was believed to be the boyfriend of the suspect carrying an Indonesian passport.
Medical workers also completed an autopsy on Kim Jong-nam, but the results have not been released.
North Korea had objected to the autopsy, but Malaysia went ahead anyway, because the North did not submit a formal protest, said Abdul Samah Mat, a senior Malaysian police official.
Comments will be moderated. Keep comments relevant to the article. Remarks containing abusive and obscene language, personal attacks of any kind or promotion will be removed and the user banned. Final decision will be at the discretion of the Taipei Times.