COA issues ban on shipments of poultry for week
The government has banned the transportation of poultry for seven days starting today as part of ongoing efforts to contain the spread of avian influenza, the Council of Agriculture (COA) said yesterday.
The ban will not apply to one-day-old chicks or chickens raised indoors and sent directly to slaughterhouses, council Minister Lin Tsung-hsien (林聰賢) said.
Eggs that have been washed or sanitized and certified by council-contracted veterinarians can also be transported for sale, he said.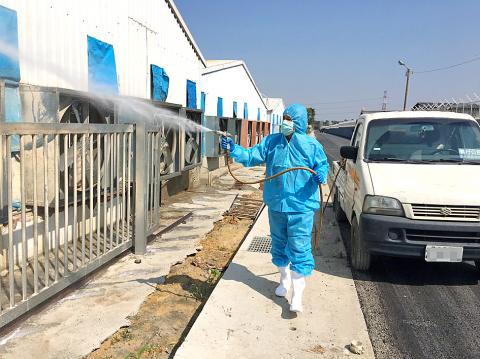 A Changhua County Animal Disease Control Center worker sprays disinfectant at a poultry farm yesterday.
Photo: CNA
Since Monday last week, six farms in Hualien, Chiayi and Yunlin counties, as well as Tainan, have been confirmed as having been infected with the H5N6 flu virus, the Bureau of Animal and Plant Health Inspection and Quarantine said.
The outbreak has put authorities on high alert, because the virus is both highly contagious and transmittable to humans.
Since October last year, the new A-type influenza has been found at 340 poultry farms in South Korea, resulting in the culling of nearly 33 million birds, the bureau said.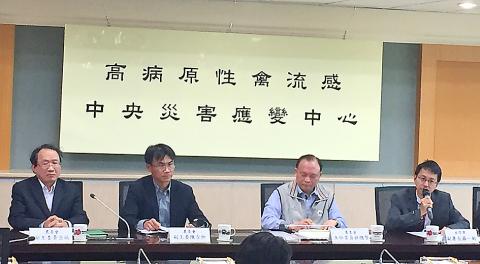 Centers for Disease Control Deputy Director-General Philip Lo, right, speaks as Council of Agriculture Minister Lin Tsung-hsien, second right, and other officials look on at a news conference in Taipei yesterday.
Photo: CNA
In Japan over the past three months, 201 wild birds have been confirmed as infected with H5N6 and the virus has been found at 10 poultry farms, resulting in nearly 1.4 million birds being culled.
According to statistics from the Department of Animal Husbandry, the national daily demand for poultry is 500 to 1,000 turkeys; 100,000 tonnes of broiler chickens; 50,000 to 100,000 free-range chickens and 5,000 ducks.
There is no record of the number of geese in stock, due to the almost complete annihilation of geese following an avian influenza outbreak in 2015.
The department estimated that with 40,000 tonnes of broilers in stock, it could sustain the market for at least three days, adding that the market would have to rely on imports after the stock has been exhausted.
There are 10,000 free-range chickens in stock, the department said, adding that they could last two days, while there are about 5,000 ducks, or a day's worth of meat.
There would be no shortage of eggs, the department said.
The department called on the public to substitute chicken with pork should the poultry supply chain fail to keep up with demand.
This is not the first time that a general ban on butchering and transporting poultry has been announced, it said, with two previous bans in 2014.
The first lasted three days, while the second lasted four, the department said.
Comments will be moderated. Keep comments relevant to the article. Remarks containing abusive and obscene language, personal attacks of any kind or promotion will be removed and the user banned. Final decision will be at the discretion of the Taipei Times.