Quebec mosque suspect known for far-right views
The French Canadian university student charged with killing six Muslim men during evening prayers at a mosque was known for far-right, nationalist views and his support of the French rightist party led by Marine Le Pen.
Alexandre Bissonnette was charged on Monday with six counts of first-degree murder and five counts of attempted murder over the shooting rampage at a Quebec City mosque that Canada's prime minister called an act of terrorism against Muslims.
Bissonnette made a brief court appearance and did not enter a plea in the attack staged during evening prayers on Sunday.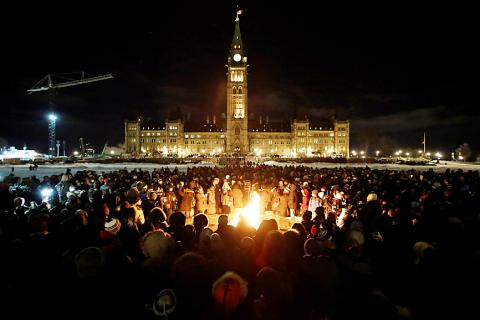 People gather around the Centennial Flame on Parliament Hill in Ottowa, Canada, during a vigil on Monday for the victims of a shooting at a Quebec mosque on Sunday.
Photo: Reuters
Wearing a white prisoner jump suit, his hands and feet shackled, he stared down at the floor and fidgeted, but did not speak.
The 27-year-old suspect, who has espoused support for Le Pen and US President Donald Trump on his Facebook page, was known to those who monitor extremist groups in Quebec, said Francois Deschamps, an official with a refugee advocacy group.
"It's with pain and anger that we learn the identity of terrorist Alexandre Bissonnette, unfortunately known to many activists in Quebec for taking nationalist, pro-Le Pen and anti-feminist positions at Laval University and on social media," Deschamps wrote on the Facebook page of the group, Bienvenues aux Refugies (Welcome to Refugees).
An anthropology and political science major at Laval University in Quebec City, Bissonnette had also expressed support on his Facebook profile for "Generation Nationale," a group whose manifesto includes the rejection of "multiculturalism."
Authorities said Bissonnette was unknown to police.
More than 50 people were at the Quebec Islamic Cultural Centre when the shooting began, and witnesses described a scene of chaos as worshippers scrambled to find friends and loved ones.
In addition to the six dead, 19 people were wounded — all men. Of the five victims who remained hospitalized, two were in critical condition, authorities said.
Canadian Prime Minister Justin Trudeau and Quebec Premier Philippe Couillard characterized the attack as a terrorist act.
Trudeau said in parliament in Ottowa that the victims were targeted simply because of their religion.
He later attended a vigil along with thousands of people bundled in winter clothes in front of Notre-Dame-de-Foy Church, just around the corner from the mosque that was attacked.
It was one of many vigils in Canada, and the Eiffel Tower in Paris was darkened in respect to the victims.
Comments will be moderated. Keep comments relevant to the article. Remarks containing abusive and obscene language, personal attacks of any kind or promotion will be removed and the user banned. Final decision will be at the discretion of the Taipei Times.