Blood bank chair resigns after report of KMT links
Taiwan Blood Services Foundation chairman Yeh Chin-chuan (葉金川) yesterday tendered his resignation after a local magazine accused the foundation of being a Chinese Nationalist Party (KMT) asset, saying that he was ordered by the Executive Yuan to step down, while Executive Yuan spokesperson Hsu Kuo-yung (徐國勇) said Yeh was being "paranoid" and denied that the Cabinet had forced him to resign.
Yeh said at a news conference that the foundation's blood stockpiles had dramatically declined due to the unfounded rumor.
Yeh said that as the report could destroy the foundation, which has operated for 43 years, he contacted the Ministry of Health and Welfare on Wednesday night and asked the Ill-gotten Party Assets Settlement Committee to quickly investigate the foundation if it has any doubts regarding the organization's legal status.
Taiwan Blood Services Foundation chairman Yeh Chin-chuan denies claims that the organization is an asset of the Chinese Nationalist Party (KMT) at a news conference in Taipei yesterday.
Photo: Chang Chia-ming, Taipei Times
He said that an official told him bluntly in a telephone conversation that his resignation was ordered by the Executive Yuan.
Yeh reiterated that the foundation is a private institution and does not receive any government funding.
The foundation's board of directors will not convene until next month, Yeh said, adding that he would ask for the board's permission for a leave of absence starting on Tuesday next week after hosting a number of events.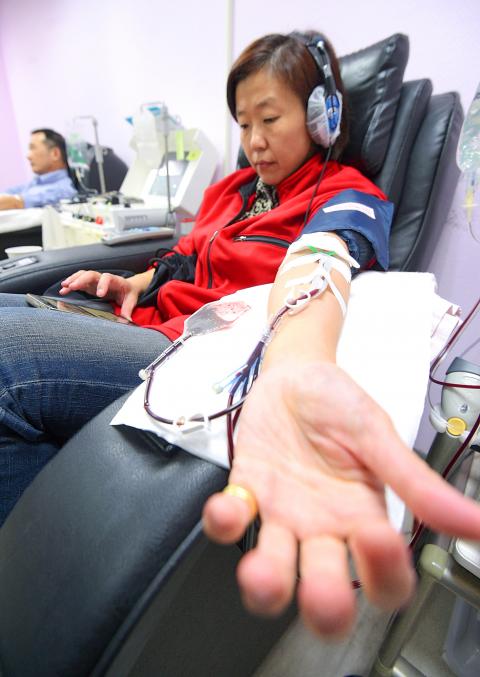 A woman plays with her mobile phone while donating blood in Taipei yesterday.
Photo: Chang Chia-ming, Taipei Times
"My resignation is a small matter. It is worth it if people have enough blood to use," he said, adding that his successor should be capable and just, and not affiliated with any political party.
Otherwise, the KMT would retaliate, he said.
"Blood is neither blue nor green, and has nothing to do with political parties," Yeh said, adding that he has been in politics for more than a decade and would not burn his KMT membership card.
He said the Mirror Media report was damaging to the foundation.
Hsu said the Cabinet regrets Yeh's "unreasonable" accusation and asked him to identify the individual who asked him to resign, if there really was such a person.
"Yeh resigned of his own free will due to his contract with the foundation. It had nothing to do with the Executive Yuan," he added.
Mirror Media on Wednesday published a report accusing the foundation, one of the primary sources of plasma for blood transfusions in the nation, of being a KMT asset.
Investigations conducted by unspecified groups were cited by the report as saying that the foundation makes NT$3 billion (US$94.4 million) in profit each year by charging hospitals between NT$600 and NT$1,000 for every 250cc of blood processed into plasma, in addition to a number of properties with an estimated value of NT$5 billion.
The foundation said that it was a legal entity established under the Medical Care Act (醫療法), not a government agency, adding that no government funds were used in its creation.
Regarding the real estate and other assets it controls, the foundation said that it established its own offices and blood donation centers and vehicles at the suggestion of the then-Department of Health in 1992.
Comments will be moderated. Keep comments relevant to the article. Remarks containing abusive and obscene language, personal attacks of any kind or promotion will be removed and the user banned. Final decision will be at the discretion of the Taipei Times.