Trump son-in-law to take senior White House role
US president-elect Donald Trump has appointed his son-in-law Jared Kushner as a White House senior adviser, putting the young real-estate executive in a position to exert broad sway over both domestic and foreign policy, particularly Middle East issues and trade negotiations.
Trump has come to rely heavily on Kushner, who is married to the president-elect's daughter Ivanka. Since the election, the political novice has been one of the transition team's main liaisons to foreign governments, communicating with Israeli officials and meeting on Sunday with British Foreign Secretary Boris Johnson. He has also huddled with congressional leaders and helped interview Cabinet candidates.
Ivanka Trump, who also played a significant role advising her father during the presidential campaign, will not be taking a formal White House position. Transition officials said the mother of three young children wanted to focus on moving her family from New York to Washington.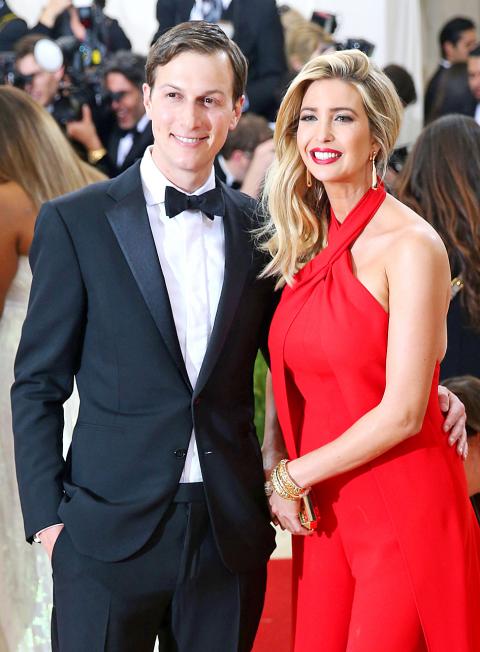 Ivanka Trump, right, and her husband, Jared Kushner, attend the opening of the exhibit "Manus x Machina: Fashion in an Age of Technology" at the Metropolitan Museum of Art in New York to celebrate the opening of the exhibit on May 20 last year.
Photo: EPA
Kushner's own eligibility for the White House could be challenged, given a 1967 law meant to bar government officials from hiring relatives.
Kushner's lawyer, Jamie Gorelick, on Monday said that the law does not apply to the West Wing, citing a congressional measure to allow the president "unfettered" and "sweeping" authority in hiring staff.
In a statement on Monday, Trump said Kushner would be an "invaluable member of my team as I set and execute an ambitious agenda."
Kushner is to resign as chief executive of his family's real-estate company and as publisher of the New York Observer.
He is also to divest "substantial assets," Gorelick said, adding that he would not be taking a salary.
Ivanka Trump is also to leave her executive roles at the Trump Organization — her father's real-estate company — and her own fashion brands.
Kushner, who turned 36 yesterday, emerged as one of Trump's most powerful campaign advisers during his father-in-law's often unorthodox presidential bid. Soft-spoken and press-shy, he was deeply involved in the campaign's digital efforts and was usually at Trump's side during the election's closing weeks.
He has continued to work alongside incoming White House chief of staff Reince Priebus and senior adviser Steve Bannon.
He has played a key role in coordinating Trump's contacts with foreign leaders and has been talking with foreign government officials himself, a person with knowledge of the conversations said.
He is also weighing in on domestic policy. He joined other Trump advisers on Monday night for a meeting with US House Speaker Paul Ryan on tax reform.
Comments will be moderated. Keep comments relevant to the article. Remarks containing abusive and obscene language, personal attacks of any kind or promotion will be removed and the user banned. Final decision will be at the discretion of the Taipei Times.