US intelligence report finds Russians who gave hacked e-mails to WikiLeaks
'COMMON PRACTICE': The hacked material followed a 'circuitous route' to WikiLeaks in an attempt make their origin harder to trace, one US intelligence official said
The CIA has identified Russian officials who fed material hacked from the Democratic National Committee (DNC) and party leaders to WikiLeaks at the direction of Russian President Vladimir Putin through third parties, according to a new US intelligence report, senior US officials said on Thursday.
The officials, who spoke on condition of anonymity, said the CIA and others have concluded that the Russian government escalated its efforts from discrediting the US election process to assisting US president-elect Donald Trump's campaign.
The intelligence assessment was presented to US President Barack Obama on Thursday and is to be briefed to Trump today.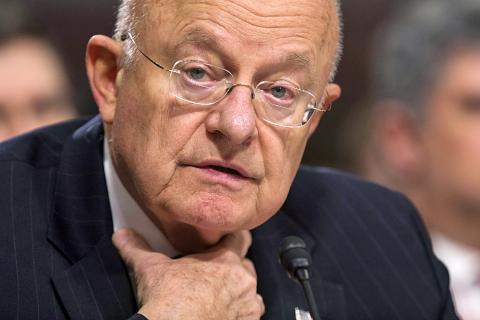 US Director of National Intelligence James Clapper Jr testifies before a US Senate Armed Services Committee hearing in Washington on Thursday.
Photo: EPA
Trump has rejected the broad intelligence community's assessment that Russia staged cyberattacks during the election campaign to undermine Democratic rival Hillary Rodham Clinton.
Russia has rejected the hacking allegations.
"By October [last year], it had become clear that the Russians were trying to help the Trump campaign," said one official familiar with the full report, speaking on the condition of anonymity because the complete version is top secret.
In some cases, one official said, the material followed what was called "a circuitous route" from the GRU, Russia's military intelligence agency, to WikiLeaks in an apparent attempt to make the origins of the material harder to trace, a common practice used by all intelligence agencies, including US ones.
These handoffs, the officials said, enabled WikiLeaks front-man Julian Assange to say the Russian government or state agencies were not the source of the material published on his Web site.
Details of the report emerged as the top US intelligence official, James Clapper, said on Thursday he was "even more resolute" in his belief that Russia staged cyberattacks on Democrats during the US presidential election campaign.
Not all 17 US intelligence agencies participated in preparing the assessment. An unclassified version of the report is expected to be released this morning, two officials said.
The report contains some of what the officials called "minor footnotes" about open questions and other uncertainties, in part because some of the evidence supporting the conclusion is inferential.
One such example, the officials said, was that intercepted messages and conversations among senior Russian officials in Putin's inner circle indicated they were aware of the hacking campaign and celebrated Trump's election as a victorious end to the campaign.
The officials declined to discuss the nature of the communications, including whether they were domestic, international, or both.
"People who knew what this was about were celebrating a victory over the United States," one official said.
Comments will be moderated. Keep comments relevant to the article. Remarks containing abusive and obscene language, personal attacks of any kind or promotion will be removed and the user banned. Final decision will be at the discretion of the Taipei Times.