DPP revising association rules for its benefit: KMT
Chinese Nationalist Party (KMT) lawmakers yesterday accused the Democratic Progressive Party (DPP) of arbitrarily revising the regulations governing the election and recall of farmers' association officials and allowing candidates to see a list of association members who are eligible to vote in association elections ahead of nationwide farmers' associations elections next month.
KMT legislators Chang Li-shan (張麗善), Huang Chao-shun (黃昭順) and Lin Wei-chou (林為洲) held a news conference saying that the government had the Council of Agriculture change the Regulations Governing Farmers' Associations' Election and Recall (農會選舉罷免辦法) for its own benefit ahead of the elections for agricultural task force team chiefs, deputy chiefs and members' representatives.
Chang said DPP lawmakers brought up the issue during a meeting of the legislature's Economics Committee in November last year, proposing to provide a list of voting association members to the candidates.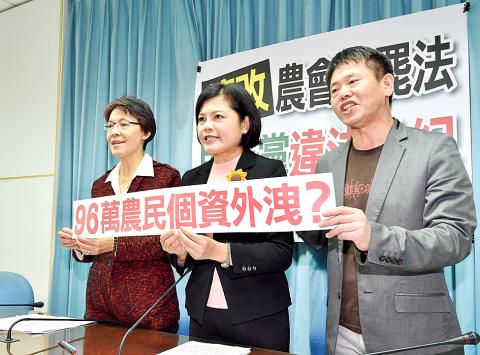 From left, Chinese Nationalist Party (KMT) legislators Huang Chao-shun, Chang Li-shan and Lin Wei-chou hold up a banner at a news conference in Taipei yesterday.
Photo: Peter Lo, Taipei Times
"The Ministry of Justice advised de-identifying the voters' information, but added that the move would nullify the purpose of providing the list," Chang said. "The committee, with the DPP's majority, deferred the decision to revise the regulations to the Council of Agriculture."
The council on Friday last week announced the period of comment for revisions, Lin said.
"The period was seven days, which is extremely short considering that the maximum time allowed is three months," Chang said.
Huang said that ever since the DPP came to power, it has been trying to seize the farmers' association system, adding that the revisions are aimed at helping pro-DPP candidates solicit votes by whatever means, including bribery.
KMT lawmakers also warned the DPP against violating the Personal Information Protection Act (個人資料保護法).
Chang said that "960,000 farmers' personal information is at stake."
"The regulations are not being revised without legitimate reason, such as letting the candidates know who their electors are so that they can compete on an equal footing," Lin said, adding that the downsides are "nevertheless significant, such as bribery and intimidation."
DPP Legislator Huang Wei-cher (黃偉哲) said that candidates have the right to know who their voters are to canvass them accordingly.
"The information is protected from people outside the associations and the candidates are not allowed to disclose the information," he said, adding that civic association elections should not be conducted in a "black box" manner or involve unfair competition, "which only the KMT would engage in under the pretext of protecting personal information."
Additional reporting by CNA
Comments will be moderated. Keep comments relevant to the article. Remarks containing abusive and obscene language, personal attacks of any kind or promotion will be removed and the user banned. Final decision will be at the discretion of the Taipei Times.