Japan-Taiwan exchange unveiled
Japanese Representative to Taiwan Mikio Numata yesterday said that he hoped Taipei and Tokyo could take their "best relationship" to the next level, as he unveiled the new doorplate for the Japan-Taiwan Exchange Association, which on Sunday changed its name from the Interchange Association, Japan.
In his unveiling ceremony speech, Numata said since the association's establishment in December 1972, Taiwan and Japan have rapidly "developed a friendly relationship that is rare around the world."
"At that time, bilateral trade between the two sides only amounted to about US$1 billion, but that climbed to US$57.9 billion in 2015. As for bilateral visits, only 200,000 visitors were recorded in 1972, but in 2015 we saw a record-high 6 million visitors," Numata said.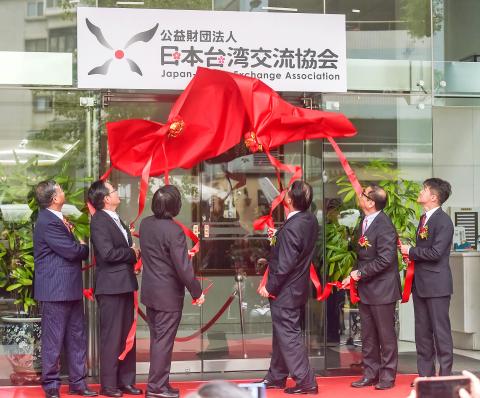 Second to fourth from right: Vice Minister of Foreign Affairs Leo Lee, Japanese representative to Taiwan Mikio Numata and Association of East Asian Relations president Chiou I-jen yesterday unveil the new doorplate of the Japan-Taiwan Exchange Association's Taipei office.
Photo: Huang Yao-cheng, Taipei Times
Assistance offered by Taiwanese in the wake of major earthquakes that hit Japan in 2011 and last year has also brought the two nations closer together, Numata said.
The name change came following a survey early last year, which found that only 14 percent of Taiwanese respondents knew about the association, Numata said, adding that he hoped the inclusion of Taiwan in the association's name would change that.
"The unveiling ceremony also marks a new chapter in the Taiwan-Japan relationship. Let us work together on bilateral ties, which are already at their best in history," Numata said.
The association represents Japan's interests in Taiwan in the absence of diplomatic ties, which ended in 1972, when Taiwan set up a quasi-official organization, the Association of East Asian Relations, to handle ties with Japan.
In 1992, the association's Tokyo office changed its name to the Taipei Economic and Cultural Representative Office in Japan, which serves as Taipei's de facto embassy in Tokyo.
Association of East Asian Relations president Chiou I-jen (邱義仁) congratulated the Japanese association on its "name change," which he said took many predecessors tremendous time and effort.
"This outcome carries more than a symbolic meaning and is not just a superficial name change," Chiou said.
Taiwanese independence groups cheered the name change outside of the ceremony.
"It is another giant step toward correcting our name to 'Taiwan' in the international community," the group 908 Taiwan Republic Campaign said in a news release yesterday, urging the Association of East Asian Relations to change its name to the "Taiwan-Japan Exchange Association."
Comments will be moderated. Keep comments relevant to the article. Remarks containing abusive and obscene language, personal attacks of any kind or promotion will be removed and the user banned. Final decision will be at the discretion of the Taipei Times.