Islamic State group recaptures Palmyra after army pulls out
The Islamic State (IS) group yesterday recaptured Palmyra after Syrian armed forces pulled out of the desert city, the Syrian Observatory for Human Rights said.
"Despite the ongoing air raids, IS retook all of Palmyra after the Syrian army withdrew south of the city," said Rami Abdel Rahman, director of the Britain-based observatory.
The militants made a lightning fast advance across the city after overrunning a northern neighborhood and capturing the famed citadel to Palmyra's west.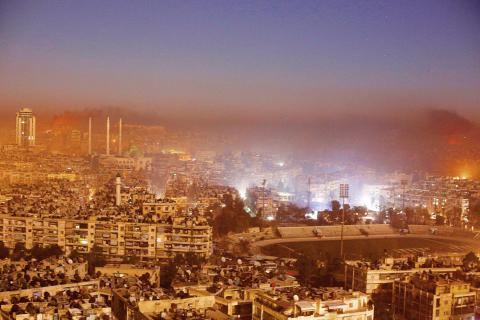 Smoke and flames rise after airstrikes on a rebel-controlled area of Aleppo, Syria, as seen from a government-held position, on Sunday.
Photo: Reuters
The IS-linked Amaq news agency also reported that IS regained "full control" of the city yesterday after taking the citadel, which overlooks Palmyra from a strategic hilltop.
IS launched an offensive last week near Palmyra, a renowned UNESCO World Heritage site.
It seized oil and gas fields before making a major push into the desert city on Saturday, sparking new worries for Palmyra's remaining ancient treasures.
However, a fierce Russian bombing campaign killed scores of IS fighters and forced others to withdraw at dawn yesterday.
"Intense Russian raids since last night forced IS out of Palmyra, hours after the jihadists retook control of the city," Rahman said. "The army brought reinforcements into Palmyra last night, and the raids are continuing on jihadist positions around the city.
In a statement issued in Moscow, the Russian Ministry of Defense said its warplanes conducted 64 airstrikes against "positions, convoys and advancing reserves of militants" in Palmyra.
"Over the past night, Syrian government troops with active support of the Russian air force thwarted all terrorist attacks on Palmyra," it said in a statement.
"The attacking militants actively used car bombs with suicide bombers, armored vehicles and rocket artillery," it said, adding that the strikes killed more than 300 militants and destroyed 11 tanks and 31 other vehicles.
Russia has carried out a bombing campaign in Syria in support of its ally Syrian President Bashar al-Assad since September last year.
IS fighters have used hit-and-run tactics to cut their losses of personnel and equipment, withdrawing under intense bombardment, but quickly relaunching an attack when skies are clear.
The militants have killed about 100 members of Syrian government forces since launching simultaneous attacks on several regime positions near Palmyra on Thursday, the observatory said.
They targeted areas including near the Mahr and Shaar oil and gas fields and seized government checkpoints, silos and the village of Jazal, northwest of Palmyra.
IS was ousted from Palmyra in March by Syrian regime forces backed by Russia. That was hailed as a major victory by Russia.
In other developments, thousands of civilians poured out of rebel areas of Aleppo yesterday as the army pushed to take the last remnants of opposition-held territory in the devastated city.
Al-Assad's forces pounded the shrinking rebel enclave in east Aleppo with artillery and airstrikes, a monitor said, with more than 10,000 people fleeing the area since midnight.
US and Russian officials yesterday were expected to continue talks in Geneva, Switzerland, on trying to reach a ceasefire in Aleppo, but a week of intense diplomatic efforts have failed to stem the fighting.
Comments will be moderated. Keep comments relevant to the article. Remarks containing abusive and obscene language, personal attacks of any kind or promotion will be removed and the user banned. Final decision will be at the discretion of the Taipei Times.